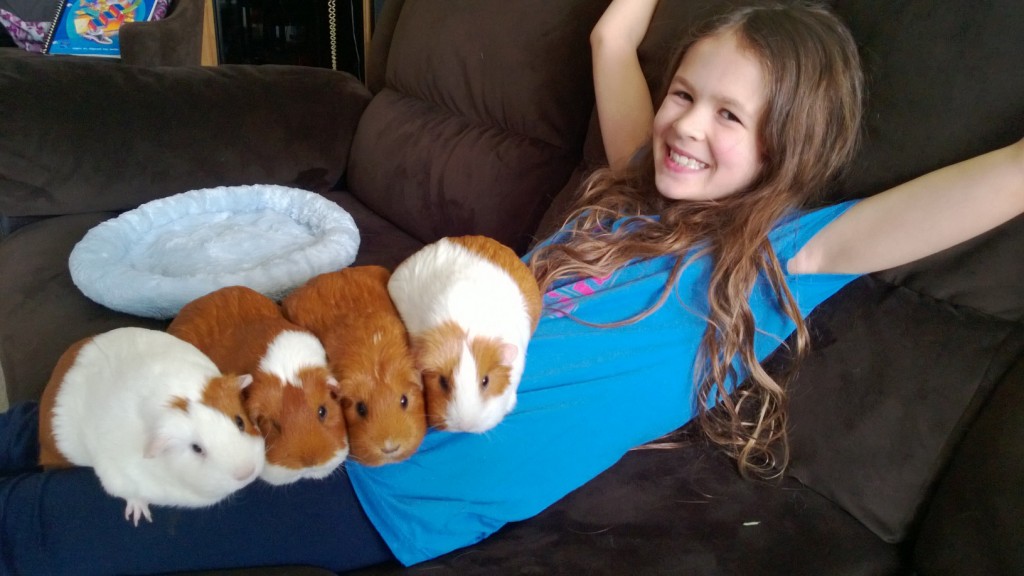 "When it seems like every other neighbor is in Hawaii this spring break, we're enjoying the quiet week, non-crowded roads, no coffee lines and some of our favorite activities."
I wrote that in 2011, and it still holds true two years later.   I absolutely love the fact that we stick around during Spring Break.  Why?  Well, of course it would be nice to relax in some warm, dry place and enjoy an adventure; but we did a spring vacation one year, and I did not feel too relaxed upon the return.   Faced with school, schoolwork and the hustling around and feeling like I was behind because I didn't get any time to spend at our house; and the vacation laundry piled up!
So, this year while everyone has been off in Hawaii (seriously, there's probably 5 different families my kids mentioned that are there), we are here cat-, dog-, guinea pig- and house-sitting.  And it has been a blast!  We have really enjoyed having the love from our friends pets and the kids all have been responsible in their duties for caring for them.   They all have impressed me this week.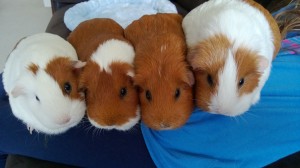 In addition to the pet sitting services, Heather has been doing a Crossfire Soccer Camp all week at Marymoor.  Such a class-act, tightly run program, and so close to us, on beautiful fields.  Too bad it rained all week.  And when I say rain, I mean, the-Seattleites-are-taking-out-the-bumbershoots, it's pouring rain.   But that's what I love about kids who grow up in the Seattle area – it doesn't faze them.  One day, she was out there without a sweatshirt on, about 49 degrees, pouring rain…not a problem.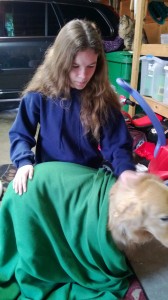 Harrison took several private chess lessons this week, as he is gearing up for the WA State Chess Tournament in Vancouver, WA in at the end of the month.  [He ended up taking home a 3.0 trophy!]
It wouldn't be a Spring Break, if I didn't make it educational.  The kids have been learning Latin by a DVD; I play the lessons to them in the car.  But believe me, they got their Rock Band and Minecraft time in too!
We also went to the ProClub this week to swim – again, no one was in the pool; okay there were 3 other kids and two other moms, but it wasn't crowded or loud and I could actually swim around without getting splashed, hit or jumped on.    
I got some movie tickets for my birthday, so we squeezed in a movie, and saw The Croods.
In between Latin lessons and Kumon, we also did a spring cleaning on the closets.  The kids are all growing like weeds, getting bigger and taller.   So, it was out with the 'doesn't fit' and in with some new.
We took one of Holly's friends and the kids to the Pacific Science Center's Wellbody Academy experience.  It was loads of fun, and allowed us to discuss 'things we saw' and learned about food, excerise and how eating healthy and having a healthy lifestyle is best for you!   We only had a short visit, but plan to take the kids again to see the section on sleep and germs.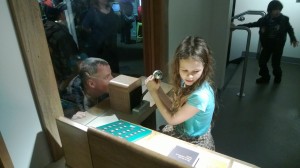 Monday morning of this Spring Break week, I took the kids to Chance's Pancake Corral in Bellevue.  You see, Bellevue's spring break is next week, so there was no wait for pancakes!  Here's the review I found, which made me check it out:
Chace's Pancake Corral

No one comes here expecting gluten-free pancakes and organic fruit bars, but the Corral delivers nonetheless. Bill Chace opened this endearingly hokey hotcake joint in 1958, and since then not much has changed. The menu relies on staples like hash browns, scrambles and bacon, as well as favorites like banana pancakes with coconut syrup. You may or may not enjoy the vinyl booths and wagon-wheel lights, but the food is good and the service is friendly.
Order It: Bill's famous potato hotcakes with sour cream, pleasing pancake patrons for over half a decade!
Good to know: As with many pancake joints, the weekend wait may be long.
Find Them: 1606 Bellevue Way SE, Bellevue, Wa 98004 or phone: 425-454-8888. Yes, you guessed it. Chace's is not online.

Hours: Monday through Friday from 6:00 am – 2:30 pm; Saturday 6:00 am – 3:00 pm; Sunday 6:30 am – 3:00 pm
True about friendly service – it was excellent.  The prices though…the four of us were out of there for $60.  Yikes!  Sometimes I cannot get over the prices for such a simple meal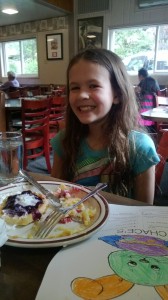 (which we often make at home.)  But, it was the experience, time spent away from the house and in front of our kids, which is priceless.  Plus, no dishes to do afterwards!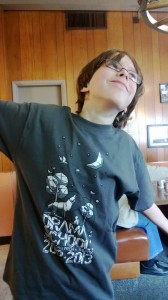 The highlight of the week was Greg's birthday.  We had lunch with Dad at his work, to celebrate, then picked up a Hoffman's Espresso Torte cake and celebrated with a yummy beef stir fry dinner, dessert and gift opening.
We also had a couple of dinner guests this week, two of our favorite teachers.  Mr. Egawa, Holly's current teacher and the older kids' 3rd grade teacher, came to dinner one night.  And on pizza & movie night we had Heather's guitar teacher, Jon stay for dinner after Heather's lesson.
On Saturday, the Sounders play the NE Revolution on the XBOX pitch, and Heather and I went to the game.   The Revs was my first MLS team, before the Sounders were introduced to the league.  It was fun hanging out with Heather, but the game was the worst.  0-0 tie, the Revs barely got the ball, and the Sounders have no finishing.  But a bad game at the XBOX pitch is better than being home doing laundry!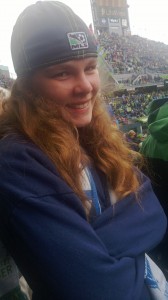 We ended the Spring Break week with a beautiful Sunday; finishing up our pet sitting duties; and visiting with friends who had returned from their vacation trips.  The kids all went out biking on the most beautiful Sunday before heading back to school.