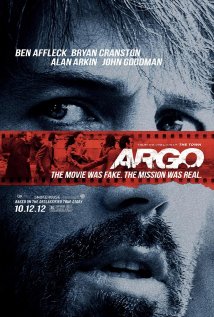 Rating: Worth My Time
See It: in select Theaters (released October 2012) and streaming on Amazon.com
It finally took a special evening to see Argo.  I discovered it was playing at the local iPic and I happened to have a gift card (from my soccer team), so Greg and I planned to use it.
Plug for iPic – awesome place for dinner and movie, and now we're spoiled.
I was 12 when the students stormed the US embassy in Tehran in 1979; so watching this movie brought back some real memories for me. Especially the the actual news footage at the end that was shown, but had been incorporated into the movie.   The classified story behind this movie is amazing and interesting as it unfolds.
The courage, bravery, determination of all of the characters involved in this movie brings it alive, and action-packed.  We love Ben Affleck, Greg tells me, his is my Boston-boy; Bryan Cranston (Breaking Bad) is serious and stern; Alan Arkin and John Goodman provide good Hollywood-humor.
What can I say, it won an Oscar for Best Motion Picture for 2013.  Go see it.