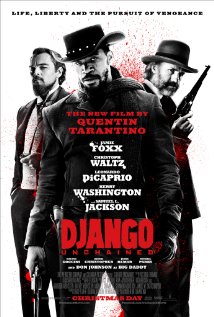 Rating: Worth My Time
See It: in Theaters (released December 25, 2012)
I really wanted to see Argo, but it doesn't seem to be playing anywhere near me; I went to the theater to catch Silver Linings Playbook, but when it wasn't playing at the time I arrived, I ended up getting a ticket for Django Unchained.
As the previews played, I was nervous.   What was I thinking, a Quentin Tarantino movie?  Although, I will always turn on Pulp Fiction any time I see it on, and it doesn't matter that its the middle of the movie, I will end up watching it; I was a little nervous to see this pre-civil war film.
I think I started laughing right from the opening scene, my thought on the movie is this:
It's a spegghetti Western meets Halo.
It's amazingly entertaining.  Funny, at times.  Bloody.  And you cheer for the hero, Django. "The 'd' is silent."
Jamie Foxx – excellent.  I loved all of the supporting actors, even the ones that played 'the bad guys'.  Tarantino even had a part, and an excellent exit.