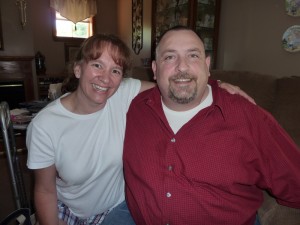 Earlier this week, I found out that my friend from high school, who I recently reconnected with through Facebook, had died in February.
I am sad–my heart is broken that Brian is no longer walking this earth with us, making people smile and laugh; and teaching math in the amazing way he touched people's lives.
It breaks my heart to know that Brian's children have lost a father; and his wife, who he absolutely adored, no longer has him to hold.
It hurts so much because Brian was so special, one-of-a-kind, thoughtful and understanding.  Not mean.  He was a true friend with insight into how the world works; how people feel and act; and how to respond to them.
I met most of my childhood friends in our neighborhood – we all attended the same elementary and middle school together.  But Brian and I met in high school and became fast friends.  We had different circles of friends, and we weren't in any classes together (that I remember).  I took AP French, AP Math, Latin and Chemistry; I believe Brian took Spanish and was placed with a group opposite my elective classes (art/woodworking/power) where we would run into each other, in the big wood shop or home ec kitchen.  But it was during the Variety Show our senior year when we really bonded.
He was, "my brother from a different mother".  I know Brian didn't coin the phrase, but he was the first person I had ever heard use it.  And he was referring to our classmate, Henry St. Jullien, in the green room during a rehearsal of the Variety Show.  It just made me crack up!
Brian was just that to me.  I always thought of him like a brother.  He was kind and gentle, but loved to joke and tease and have fun.   When those teenage heartbreaks happened to me, Brian offered advice or ear to listen.  We were never boyfriend and girlfriend.  Brian liked the young, pretty cheerleaders, and I wasn't that at all.  He was like a brother to me.  We hung out together, shared time together.  I was very lucky to know him.
I have many memories of Brian during high school; meeting up at Friendly's or Trombetta's for an ice cream; going to prom (we had separate dates but danced together in a group), and during the Variety Show, especially.  But the most vivid memory was the morning of our high school graduation.  When most girls were getting their hair and nails done, I jumped in the car with Brian and our friend Johnny Siira, and we took a long drive down Rt. 20 to Strawberries in Sudbury.  Now, for you young folk who don't know what a record store is, that's what Strawberries was.  Rows and rows of albums to flip through.  We killed most of the morning just talking music.    I bought a tape on Brian's recommendation:  Creedence Clearwater Revival.  It was the most perfect day, a gorgeous June morning, not too hot yet, clear skies and sunny.   As we cruised back to Marlboro, with the windows down, our hair blowing everywhere and blasting CCR's Up Around the Bend, anticipating our afternoon graduation, it was the most perfect time.
UP AROUND THE BEND
There's a place up ahead and I'm goin'
Just as fast as my feet can fly
Come away, come away if you're goin'
Leave the sinkin' ship behind
[CHORUS: Come on the risin' wind
We're goin' up around the bend]
Bring a song and a smile for the banjo
Better get while the gettin's good
Hitch a ride to the end of the highway
Where the neons turn to wood/[CHORUS]
You can ponder perpetual motion
Fix your mind on a crystal day
Always time for good conversation
There's an ear for what you say/[CHORUS]
Catch a ride to the end of the highway
And we'll meet by the big red tree
There's a place up ahead and I'm goin'
Come along, come along with me/[CHORUS]
Do do do do/Do do do do/Do do do do
In 2010, Brian and I reconnected on Facebook and through texting and email we got caught up with our lives.  He told me everything since we graduated; finding his true love and getting married; and including becoming a math teacher and how he loved having summers off to spend more time with his children.  We couldn't have been more further apart, 3,000 miles, but we were as close as we had been since high school.
Later that year, when my family was visiting Massachusetts, we took a drive to visit Brian.  His entire family was gone for the time we were there; but we had a wonderful visit with his pets and tour of the house they built.  It was so good to have our own high school reunion.  Brian left an impression on our children.
Although we have never met, I think Renee is the luckiest of us all – she had found that special something in Brian to make him her husband.
I read the online guest book from Brian's wake and I know how humbled he would have been by the kind worlds of parents of his students, friends and family.  I can see his hand on his heart, a light bow to his head and the other arm outstretched to  receive your hug.  Brian gave the best hugs, because they were full of honest love.
Wipe your eyes, because Brian wouldn't want you to shed a tear for him.  But as I go through my boxes of tissues, and hear his words in my head, "Cheer up," I will be thinking of you, my friend, and holding Brian's memories close to my heart and praying for your family.   Thank you for being the best you, Brian.  We all miss you.
Brian Joseph Snook  11/10/1966 – 02/19/2013
Please watch this short skit of Brian and friends during the 1985 MHS Variety Show:  Poisoning Pigeons in the Park– MHS Variety Show 1985