Our family has been running Beat the Bridge for many years now.   The older two kids and I used to run the fun run every year.   But this year we joined forces with two families who we are friends with, and have children with Type 1 Diabeties.
Team Danny and Team Juliana
Greg and Harrison ran the 8K Beat the Bridge road race for Team Danny.   It was Greg's first ever road race!  The object is the get to the bridge before they raise it up!!!  Did they make it?  No – they were "juked," as Harrison said.  But with official times of: 48:53 and 45:08, Harrison's time was faster; their unofficial times were about 10 minutes faster than those…either way, they want to do it again next year.
The girls walked with Team Juliana; which we quickly found out dispersed into several little groups.  But our group was fun, fast and we had a great time walking 4 miles around the UW campus.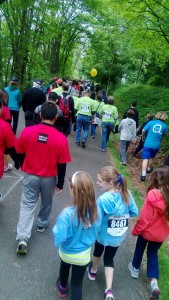 I believe the mothers of these wonderful children, Danny & Juliana explain why this race is an important fundraiser.
Kim: Before my child was diagnosed,  I never really understood what an impact a diagnosis of T1D could have on a family.  As the mom, I worry constantly.  I worry when Danny is at school, when he participates in sports, when he is off with his friends.  What if I am not there if he should have a diabetic emergency?  I especially worry at night time.  If his blood sugar is to high, his pump could not be working right and he could wake up sick.  Even worse, if his blood sugar is to low, will he wake up?  Many nights I will be up at 12am and/or 3am and sometimes more.
I know that Danny's brothers and sister worry about him too.  They also worry that they could get diabetes, as well.  As you can imagine, this diagnosis of T1D has changed all of our lives forever.  Please click here to watch our Team Danny video and learn more about T1D and Danny.
Elisa shared this short video message from Juliana:  http://www.youtube.com/watch?v=f2uGwajwQi4 and how Juliana deals with T1D every day of her life.
In the end, we received this message from Elisa: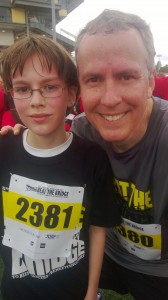 Dear Team Juliana supporters,
THANK YOU!  We had a great day today at Beat the Bridge.  Whether you were with us in person or in spirit, we so appreciate your support.  This year, Team Juliana was about 40 walkers, 10 runners, one diaper derby contestant and 275+ donors strong.  We had great Pacific NW weather this morning: low 60s with no rain.  We had a lot of fun tailgating in the UW parking lot before and after the event.  The Beat the Bridge race overall had their highest number of participants ever, with more than 11,000 people walking and running around the University of Washington campus.  Team Juliana ended up as the 3rd highest fundraising family team, and we are thrilled to have raised more than $25,000 this year for type 1 diabetes research.  Our sincere thanks – we couldn't have done this without YOU.
This year, Team Juliana had several business sponsors.  We'd like to thank them and ask you to support their businesses if you have the opportunity:  GrandMasters, KTAP Swimming and Mark W. Nelson Orthodontics.
We appreciate your ongoing support.  It's hard to believe this is our fifth Beat the Bridge since Juliana's T1D diagnosis early Christmas morning in 2008.  We are so grateful that thanks to the generosity of many family, friends & colleagues, Team Juliana has raised more than $85,000 for JDRF in the past five years.  We remain as fiercely committed to improving the lives of people with T1D as ever, and your contribution to JDRF, and the research that makes this happen, means the world to us.
With sincere gratitude,
 Elisa, Greg & Juliana
******
Here's some moments from the day.
Click on thumbnail to get larger image: