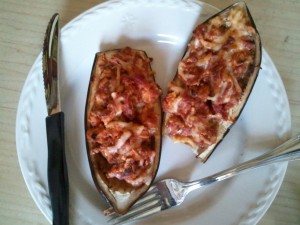 Scoop out eggplant halves and stuff them with Parmesan cheese, pasta sauce and bread crumbs.  I prefer monterey jack cheese, or use mozzarella.
This recipe is purely made like an Italian, a pinch here, a little there more of that there….you have to just add your ingredients based on what you like.
Ingredients:
1 Mini eggplant (Costco sells them in packages of 4, periodically)
3 heaping spoons of spaghetti sauce
couple of T. Italian bread crumbs
shredded cheese
2 T. grated Parmesan cheese (for flavor, add more if you want more Parm)
Directions:
1. Preheat oven to 350 degrees F.
2. Cut off top of eggplant and slice in half lengthwise.  Hollow out eggplant onto cutting board.  Chop to bite sizes.
3. Add eggplant into bowl and add pasta sauce, bread crumbs, and cheeses.  Mix well.
4. Scoop mixture into hollowed out eggplants.  Place on cookie sheet and bake for 30-40 minutes until tender. 
Serves 1.  Great for lunch; or cook all four for dinner or appetizers.