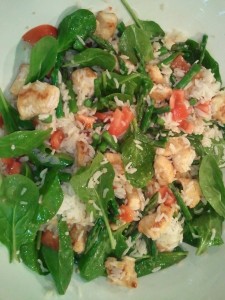 Italian Asparagus Rice Salad
Servings: Makes 5
1/4 cup grated Parmesan cheese
1/4 cup Italian style seasoned dry bread crumbs
1 pound skinless boneless chicken breasts, cut in chunks
1 T. olive oil
2 cups fresh baby spinach leaves
3 cups cooked rice (optional: cook in chicken broth)
1 bunch of asparagus, trimmed, cut into 1-inch pieces and steamed (do not overcook)
2 plum tomatoes, diced or 1 pint of cherry or grape tomatoes
1/4 cup finely diced red onion (or enough to your taste)
1/4 cup chopped walnuts (optional: toasted)
2 T. chopped fresh basil
2/3 cup Zesty Italian salad dressing
1.  In Ziplock bag, combine cheese and bread crumbs.  Add chicken and toss until coated.
2. In large skillet, over medium-high heat, heat oil until hot.  Add chicken, one piece at a time, using tongs.
Cook 5 minutes, turning chicken frequently, until browned and on all sides, and cooked all the way through.
3.  Remove chicken to large serving bowl.  Add spinach, rice, asparagus, tomatoes, onion, walnuts and basil.  Toss to coat with dressing.