On Sunday, eight tiny carolers graced the streets of our neighborhood with their singing talents.  Shuffling house to house, in the pouring down rain ~ and if you watched the Seahawks/49'ers game, you would have seen the rain.  They were greeted by the friendliest of neighbors, most with vistors, and some offering cookies and fudge and one house wanted to give them money!   They even had one gentleman sing Little Drummer Boy with them!   This was our 5th annual Keyser Kids Christmas Caroling Party.  Click here to see and hear the carolers in action!
This is a tradition that I grew up with every Christmas;  spending one evening entertaining the neighborhood with kids singing door-to-door!  We've passed on the tradition to our children when Heather was in 3rd grade, and have been doing it every year.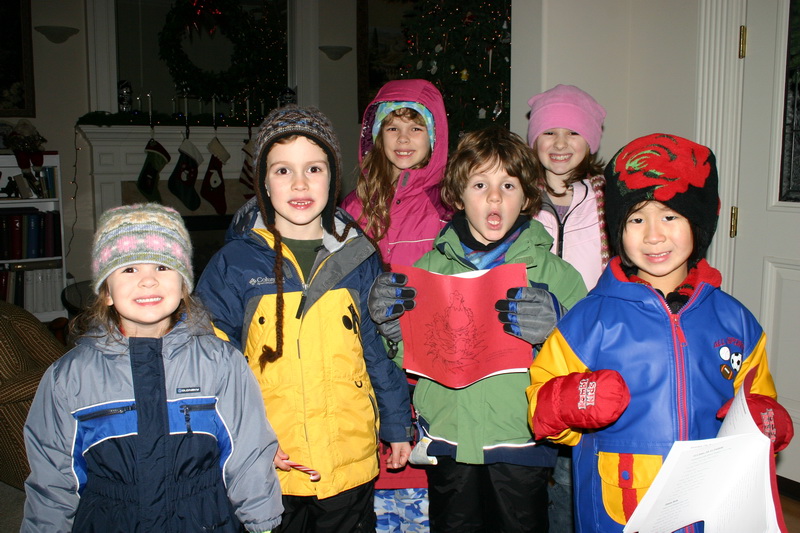 The very first year, it dumped  snow on our event and the kids were troopers, trudging through the snow.  We  only got to 10 houses in 1 hour because it was so hard to walk in the deep  snow.  But it was beautiful outside and everyone on the street was home!  The singers got lots  of cookies along the way too!
Click here to see video from that first caroling party!
This year, 2012, no snow but plenty of rain; and we got to many more houses  throughout the neighborhood spreading cheer!   Singers arrive promptly, so we can 'practice' some songs before  heading out. Dressed warmly, we're outside for a full hour; until we return back to the  Keyser's for hot chocolate, apple cider and cookies!
Just before we return home, each year, we end our adventure with an invitation to see an amazing gingerbread house, our neighbor Ann makes every year.  It takes her several weeks to design and bake and create the masterpiece.  Each year the kids ask similar questions: How long does it take to make? How do you make the snowman? Santa? Christmas trees?  What candy are the decorations made of?
Click here to see the construction and upclose photos of this amazing gingerbread house!