One year when we visited Santa, he has said to Holly, "I will leave you something special in pink near the…"  and the kids would have to say, "Sink!"
"Something for Harrison in green near the washing…"
"Machine!"
"And for Heather, something red near a…"
"Bed."
So, this year Santa decided to leave the kids a note for a present scavenger hunt!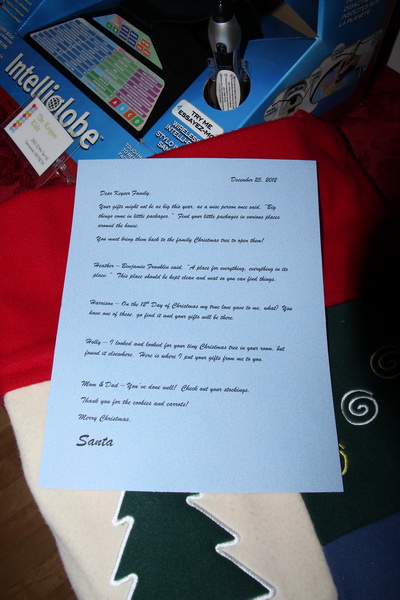 December 25, 2012
Dear Keyser Family,
Your gifts might not be as big this year, as a wise person once said, "Big things come in little packages."  Find your little packages in various places around the house.
You must bring them back to the family Christmas tree to open them!
Heather – Benjamin Franklin said, "A place for everything, everything in its place."  This place should be kept clean and neat so you can find things.
Harrison – On the 12th Day of Christmas my true love gave to me, what?  You have one of these, go find it and your gifts will be there.
Holly – I looked and looked for your tiny Christmas tree in your room, but found it elsewhere.  Here is where I put your gifts from me to you.
Mom & Dad – You've done well!  Check out your stockings.
Thank you for the cookies and carrots!
Merry Christmas,
Santa