Another effort in working the newsletter is to keep up with each month of the year by recapping it, so when I get to the end of the year, I can look back at everything we did.
After a completely restful December vacation, Greg changed the brakes on my Honda Odyssey with some help from a friend.
The kids all went back to school the first week in January.  Harrison continued with Shrek Jr. rehearsals every day, plus piano lessons (Monday), tap class (Tuesdays) and chess class (Sunday).  In between all of this and his homework falling into a big pile, he earned a 3.0 trophy when most people had the day off (MLK Day), this kid was working hard at a 4 round G/50 Swiss U1600 section, WA Junior Open chess tournament. He earned a 3.0 trophy, but the real story is during the first 2 games he upset players who were rated 300 points higher! To do that once is rare, to do it twice–worth noting!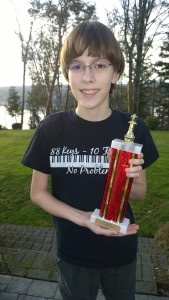 He also pulled together a project for National History Day for his LASS class.  This 4-month long project by this point was two project boards taped together and the words, "Marie Curie" at the top.  Oh, and the peer review was due on January 13th and it was not looking good.   He spent most of the 11th and 12th working on it and it was not completed.   Peers commented on the work he did, was too small; so he basically had to scrap everything, reprint and remount all of the work over.   Now, if I was "helping" him, I would have said the same thing.  Because when I had to drag the board to school (drop it off and pick it up every day for several days that week, because of the carpool cars couldn't handle the size), I noticed that the type print was too small, even for these 40+ year old eyes.  More on this story at the end.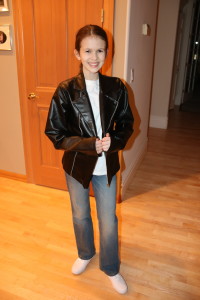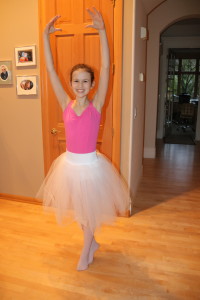 Holly continued with 6th grade and is back with the EHS Jr. Dance Team, which switched it's practices to our very busy Mondays from our very light Wednesdays.   Now, I have to be at RSAR to pick her up from school at 2:00pm, blast back to our neighborhood to get her to piano lessons at 2:15pm – which the teacher is accommodating for us — only to blast her back to RSAR/EHS after the lesson, to be at dance practice by 3:00pm.  She has a snack in the car and makes sure she's dressed and ready to go.  It will all be worth it, I think, because this is one of the things Holly just loves to do, dance.   And I am hoping she continues with the EHS Jr. Dance team and then is part of the EHS team in a few years.   I really like the idea that she is working with the high school students and it is such a benefit to have this opportunity for her.  Their first performance with EHS Jr. Dance Team will be February 6th.  In the meantime, her Gotta Dance performances were on January 23rd and 24th and they were spectacular!  Her Musical Theatre number "Hand Jive" was definitely one of the best dances in the show.  She also did a ballet number to Phantom of the Opera medley and a Hip Hop dance; this time the first time she was in three dance numbers and relegated to the quick-change room backstage.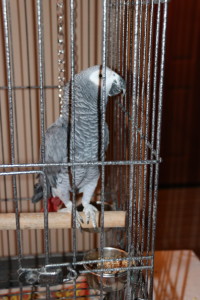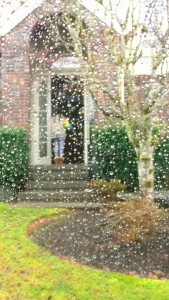 Let's not forget, Bugle coming to stay for another visit but just for a short weekend.  He seemed very happy to be back and enjoyed his stay, especially with Mark and Tina renovating their kitchen and he is regulated to the back room of the house.  <sniff sniff>  It's very quiet around here without him!
That same weekend, Girls Scout cookie sales began.  I have stepped away from being cookie mom this year, to focus on the Italy trip.  Even with that cookie stuff off of my plate, I still have been busy and Holly is working the streets diligently.  The first afternoon and next morning, in the pouring rain, she walked up and down the streets.  I would drive her over to different neighborhoods, but for the most part she was went and working it!
Harrison also has piano at 3:00pm on Mondays…the same time Holly has dance.  His bus drops him off at the busiest road and after I drop Holly off at EHS, I blast back up the road to pickup Harrison to bring him to the piano instructor's home.    When they were in Elementary school, I used to do something similar, a 2-hour round trip of picking up and dropping off during their lunchtimes and had visions that when they were in middle school the bus would drop them off in the piano instructor's neighborhood and they would walk over to the lesson.  Nothing is every easy for me.  Their lessons are too early for the bus to drop off at the proper time; and the piano instructor is booked.    Anyway, it all gets done with a lot of effort and commitment on my part, as well as theirs.  They have to make sure they have their music (either in the car or backpack) before they leave for school.
Heather, this month, in addition to all of her classwork, has been gearing up for Confirmation.  She has been attending confirmation classes since October and her final one was coming up on January 6th.  The final event was a Confirmation Retreat weekend at Warm Beach Conference Center.  In November, I did an email campaign to every teacher, coach, conductor, family members and adult friends I could think of who had some way shaped Heather, and asked them to write a Palanca letter to her while she was away on retreat.
A Palanca letter, meaning "to lift up" is a privileged communication between the writer and Heather only, and are not read by anyone else.  It is an unique opportunity to say those things that are often left unsaid or just to remind Heather how much she is loved!  It is a message of love, support, admiration and recognition that reinforces Heather's specialness.  These letters were given to her during the weekend, written by these important people in her life.  20 people to be exact.  Heather said that her envelope was the thickest.  And she was one of the first people to start reading the letters and one of the last people to finish.  And did she cry?  Yes, she did.  We can tell, it changed her.  We are very grateful for everyone who participated, it made it quite special for her.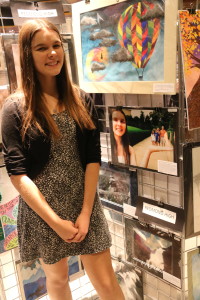 Pictured here, a very reluctant Heather, who has now had over 10 entries into the Reflections Art Contest, at least one every year since 1st grade, and countless that have advanced onto Districts, one onto States (2014), and one that hung for a year in a Senator's office in Olympia.   This is the selfie, advanced to Districts, she took this summer of the family in her hand.  The theme this year, "Let Your Imagination Fly".  She had a second entry of the blood moon.
Gearing up for the Italy tour has been a lot of work for me.   I have been cleaning out the attic, laundry room and filling bags of clothing for the fundraiser that will take place on February 9th.  I also attended a meeting with our Head Chaperone to meet the other chaperones and get training.   I have checked our passports and documents, made payments and online registrations.   I saw the eye doctor and got new specs just to have a backup.  In between all of that I made time to have lunch with Nikki, cried about not being able to see Sting and Peter Gabriel when they are here in Seattle, supporting Harrison on his homework and Shrek endeavors, and organizing the Shrek Cast Party on January 31st.
To continue with Harrison's National History exhibit: when he finally made improvements on his project board,  passed the whole thing in, he texts me from school, a picture of a form to be filled out and says:
"So I was chosen to compete in NHD (National History Day). I need to do all of this with you by Friday (so I was thinking we could do it tonight just to get it out of the way.)"
From the Quest class of about 60, nineteen projects were select, his being one of two exhibits selected, but the other exhibit is a group exhibit, and his project is from an individual.   It is on Marie Curie.  Registration was done by January 29th.  And he needs to attend two after school work sessions, then an all-day Regional event 8am-6pm in March.  If he does well enough, it might move onto State.
And finally, last but not least:  SHREK Jr. the Musical.  Harrison was cast as Pinocchio; and OMG!  He's the perfect Pinocchio!  I saw the performance for the first time last night, it was very cute and as always, very well done!  Hoping to get some pictures from the show tonight and tomorrow.  Here's what I wrote on fb:
Harrison Keyser is Pinocchio in the Red Cast performing Thursday (7 pm) and Saturday (2 pm and 7 pm). He is in ensembles (Bishop, tap dancing Rat, Duloc Dancers) in the Black Cast performing in all of the other shows.
Performances begin January 28th and run until Sunday, January 31st at Redmond High School Performance Center.