Over the last few weeks, I have gotten a few calls (actually, Facebook posts) from folks who have stepped up and volunteered to coach soccer.  I commend you!  I thank you!  You are doing a fabulous thing for your child and all of the players on your team! 
Now what? 
First, check your youth soccer website.  Find out if they offer any coaches training, and attend it!  Show up with a pen and paper and your "boots" (cleats or soccer shoes) and be ready to play.   Our local soccer organization is Lake Washington Youth Soccer: www.lwysa.org and they have fantastic written training, great for reference and you can print out and use at your practices.  This is a great primer: http://www.lwysa.org/doclib/Book3.pdf  don't let the title deter you, if you're players are older, you still need to know these basics.  Other trainings can be found under Coaches Corner/Coaches Tools at www.lwysa.org.
Next, check out your library.   The library system in our area has some really great DVDs about soccer.  Search online for "Soccer, how to coach and how to play" there are several parts produced by George Kuntz, Kevin Patrick.  But any soccer dvd's will do.   Get some ideas, make notes, use them for your practices. 
These DVD's from US Youth Soccer are fantastic too.  The Novice Coach for U6-U8 and for U10-U12.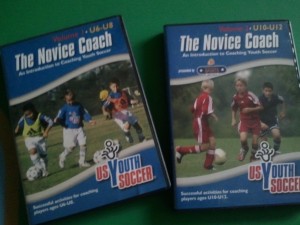 Your practices are probably 1 hour.  I like to divide them up like this:
:05-:10 warm-up/team talk
:10-:20 1st activity
:20-:25 water break
:25-:40 2nd activity
:45-:00 scrimmage, or small sided game (3v3, 2v2, 3v1)
:00 end with water, equipment collection and a team cheer
Each week I'll work the team on a theme or technical skill.  Passing, shooting, goal keeping, corner kicks/free kicks/throw-ins, while always developing each players own technical skills: dribbling and juggling.  I like juggling, because the young players can pick it up and do it and achieve 1 or 2 juggles right away.  Then with practice they can get more and more juggles in, touching the ball with their thigh, foot or head (older players only).  See Head Concession below. 
Juggling is great, because players can do it by themselves and when they get better do it with friends.  But it's great practice to get used to the feel of the ball.  I think the best jugglers become the ones who can field the ball best, because they are used to speed and look of the ball when it's traveling at them.  It also works the mind.  If the player gets used to the ball touches, it becomes second nature to them to handle the ball on the field.  Less decisions they have to make in those split seconds. 
To teach juggling:
1. Simply, have players drop the ball at their feet.  Have them place their hands out in front of them, palms perpendicular to the ground, thumbs almost touching to form a W.  Ask them to march in place.  Get those thighs up high enough to touch their hands. 
2. Next, have them pick up the ball, hold it in their hands and then drop it as they bring their right leg up to meet the ball, then left leg up for the second touch (the march).  Encourage kids who want to touch it twice on the same leg, to tap it from one leg to the next.  Go for 2 touches, then encourage them to do three.  Spread out and give everyone LOTS of room.
Another reason why I like to teach juggling, is because it's fun.   And if you're coaching, you've got to have some fun.  I love to talk with the players at the very beginning of practice and again at the end.  I check in with everyone and get a feel of each personality and see how the players are doing.  Ask about their day and be interested.  This is a great way to get to know your players.  At the end of each practice, I like to do a cheer.  I prompt with a "1-2-3" and they yell, "Go Jets!"  It's great practice for game day. 
Mantras
I think it's important to have a mantra or two (or more) when working with a team.  Last year our U9 team worked on passing.  I would say, "You're not just giving him a pass, you're giving him a gift."  And would stress how to get the pass to the teammate, but not blast it at him or kick it past him.  "You're giving him a gift" gets the ball right to his foot, not in the air for him to man-handle it.
For throw-ins, I like to set the kids up in a triangle position; the thrower (behind the line), the midfielder perpendicular to the thrower (is the support) and then the forward "down the line".   The thrower should always throw the ball, "down the line" to the forward to run on it.
Other good tools to have are "1-2-3, eyes on me" and they call back "1-2, eyes on you", and set your expectations with the players and the parents right up front.  
Next Post: regarding Correspondence
I like to send emails outlining philosophies, expectations of parents, practice, games, assistance, referees, uniforms and more, including the information below on Head Injuries.
Health Forms
Zackery Lystedt Law passed in 2010 in WA State and parents and their players are required to electronically sign a consent form regarding head injuries before their child can practice or play.  The law requires if any player gets hits in the head, s/he must be taken out of the game and cannot return without a consent form from a physician.    As a coach, I take this law very seriously, and will expect your assistance if you child is taken out of a game.   This happened several times last fall, including to Harrison, and it's not fun; but please watch this short video to see how serious this can be.