When it seems like every other neighbor is in Hawaii this spring break, we're enjoying the quiet week, non-crowded roads, coffee lines and some of our favorite indoor activities.
Cooking camp at Sur la Table  (8-12 year old) 
Harrison went to this camp this week; I didn't want to send 2 Keyser kids for the bickering factor, so it was nice to have him do this camp and the girls and I went out to lunch each day of the 3-day camp.  See Spring Break Eating post for out restaurant reviews. 
The camp featured several snacks, dinners and desserts.  Campers leave with all recipes, and a gorgeous apron. 
Highly recommend it, and you get a 10% discount on purchases in store for the week.  Bonus!
Summer camps available, I'm thinking about signing Heather up, if anyone is interested, reply to this blog and we can coordinate weeks and carpool. 
All our our kids need to run, jump, play and have fun.  My goal for the week is to challenge them to a solid hour of physical activity.
Monday we were off to the ProSports Club, Bellevue for swimming.  45 minutes into it Holly was dragging herself out of the pool.  Fortunately, her friend from school showed up for a lesson so that got her engaged for the last 15 mins.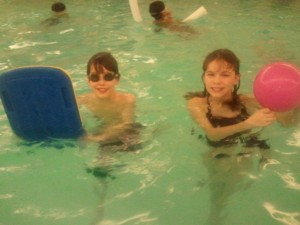 Wednesday we were off to Sky High Sports in Bellevue, the indoor trampoline area for big kids.  Foam pit, dodge ball area and of course, the wall-to-wall-including-the-walls trampoline area.  Spring break prices $11/child for 1 hour.  Normally, Wednesdays are $14/child for 2 hours.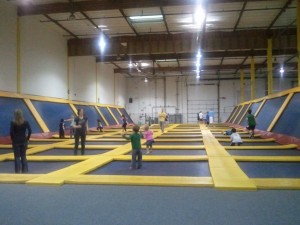 Friday will find us at Vertical World in Redmond for indoor rock climbing and belaying.  Vertical World started the first indoor rock climbing business in the U.S. in 1987.  Again, a little education mixed with an hour long activity.
On top of all this fun, relaxing with the XBOX games, DS's that they never get a chance to play, the kids help shop and put together Easter baskets for our church; plus, we purchases items such as water, sleeping bags, warm clothes, toliet paper and 10 mini pillow pets and brought them to the drop off location in Bellevue for Ron & Don's Operation Airlift, to help 400 orphans in Japan.  Donations are being collected now (3/30/11) until this Sunday, 4/3/11 and all details are on the Ron and Don website.