June 4th, 2016 – Getting ready to go!
Back in January, my good friend Scott Skorupa asked me to go to the Northwest Sportsman Expo at the Puyallup Fairgrounds.  Our goal was to research a fishing trip.  We probably looked at 20 different places, but there was one that really called our name.  We chose Rocky Point Resort in Petersburg, AK.
We fly out on Thursday 6/9 at 6:55 a.m. on Alaska Airlines.  There are a couple of stops along the way, we should be in Petersburg before noon.  We'll fish later that afternoon, then for the next 3+ days, targeting halibut, king salmon and rock fish.  We'll also be dropping crab and shrimp pots!  I hope to bring home a nice array of seafood, as they will filet and freeze all fish we catch.  I'm not sure about the crab and shrimp, but we'll find out.
June 9th, Arrival day
We arrived in Petersburg today around 11:30 local time, after stopping briefly in Ketchikan and then Wrangle. The weather was quite nice, around 60 and mixed sun/clouds.
Our driver Scott met us at the airport and first offered a quick stop at the liquor store. We weren't really interested in getting liquored up during the trip, so we said no thanks and headed to the lodge.
Scott gave us a quick tour, we handed over our drivers licenses so they could begin processing our fishing licenses and then checked in to cabin #4.
Lunch was c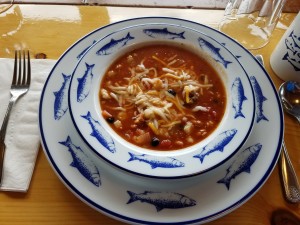 hoice of clam chowder or chicken/pork tomato based soup.  I tried both, and they were delicious.  Also served with warm homemade rolls.  Yum!
After lunch, Kenny took us out trolling for Kings.  Of course we had been asking how the fishing has been, and the consensus was Halibut has been awesome but the Kings haven't really started yet.  Well, it must have been the day for Kings to start arriving!  About 5 minutes in, I landed a 13 lb. King.
Scott also had one on but lost it, and every other boat from the lodge (there were 4) landed Kings.  I didn't have any more action after that first fish, but the Kings were definitely biting.  We came back around 5:30 for dinner, and here's a few pics of the fish they were processing.  Amazing!
Dinner was even better than lunch.  We had baked chicken with a cilantro/avacodo/pinapple/etc. chunky chutney topping, spinach bacon salad, homemade cheese bread and rice.  Dessert was a Norwegian strawberry sponge cake with fresh whip cream.  OMG.  So good.
After dinner, I was checking out the other cabins and met Jim and Linda Daugherty.  They are from Ducks Unlimited, located in Lincoln, MT.  Linda is shown in this picture, from their chartered fishing trip today.  They've been coming to the lodge for 15 years and love it.
Tomorrow, we head out for a full day of chartered fishing.  Can't wait.
June 10th, Friday
Didn't sleep too well last night, partly because of excitement to go out fishing and partly because the beds aren't really that great.   Woke up about 3:30, the eagles were chirping and squawking up a storm.  Sort of slept until 5:00 so we could get ready, eat a quick bite (homemade cinnamon rolls were sooooo good) and head out at 6:00.
Scott and I had 2 guides, Nick and Jeff.  Nick's been with the lodge for 9 years and Jeff is in his second.  Both were great guys to hang with on the boat for a day.  Fishing was very, very slow.  We did manage to land 2 Halibuts, I caught them both.  But compared to the previous couple of days, this was way down.  We spent about 5 hours each fishing for Halibut and Kings.  We didn't get a single bite for Kings.
One of the cool things to watch is the guys fileting up the fish at the end of the day.  After they filet them, they throw the carcass into the Narrows.  The Bald eagles are all over this, and they are everywhere!
Bald eagles gotta eat too.
Dinner was excellent.  We had seafood pasta, fresh salad and rolls, and asparagus.  Dessert was strawberry pie, which had strawberries and whip cream.  Crust was tasty.
Sadly I did not put sun screen on and it was very sunny all day long.  I'm red.  Got some sun screen for tomorrow, even though it's supposed to be cloudy with a chance of rain.
June 11th, Saturday
I actually slept quite well last night.  I decided to try the other bed since I had nothing to lose.  The second bed was WAY more comfortable.
Today was our first day on the water without a guide.  They have 16' "skiffs" that you can take out on your own for Halibut or Salmon.  We spoke to the guides the day before, and planned out where to fish.  We also grabbed a crab pot to drop along the way.
Heading out in the skiff
Woke up at 5:00 a.m., got ready and grabbed breakfast.  We had to pack the boat for the day, and pack our own lunch so we didn't get rolling until about 6:30.  Decided we'd go straight to Duncan Canal and drop the crab pot along the way.  It took about 45 minutes to get over there, and the wind was blowing pretty good.  Maybe 2 foot chop.   I caught about a 14 lb. Halibut after an hour or so.  Scott then caught a smaller Halibut and while we could have kept it, he chose to toss it back.
When you're out on a boat, there's always an "issue or two" to deal with.  Scott noticed the floor of the boat near him was starting to get slippery.  He couldn't figure out what was going on.  Then his shoes started streaking the boat, as if he had grease on the bottom.  Well, we figured out that one of the auxiliary gas cans was leaking—it had a crack near the top where the line connects.  Since we had used 2/3 of the first tank getting to our spot, we were a little concerned that if the second gas can didn't function we'd be calling in for help.  So we decided to switch to the leaky gas can to see if we were screwed or not.  Fortunately, the flow of gas was fine.  So, we headed to go pull the crab pot.
When dropping a crab pot in the water, always remember to check the gear.  Doh!  As I was pulling the crab pot into the boat, we noticed crabs falling into the water.  How can that be?  Well, whoever put the bait in the pot for us didn't actually clip the door shut, so as I was pulling the pot up the door was wide open.  Out went crabbies….fortunately, we managed to still get 2 keepers.  After we got back, we dropped the pot again closer to the lodge and after a 2 hour soak got our limit for the day—4 more keepers for a total of 6.  While the crabs were soaking, we targeted Kings.  Scott got one hit, but never really had it on.  We didn't get any Kings again today.
Tonight's dinner was good, but easily 3rd place for what we've had so far.  We had mac and cheese, pizza, halibut enchiladas with jalapeno's (they were awesome) and steamed broccoli and cauliflower.  Dessert was banana cream pie, and it was excellent.
Tomorrow the weather is supposed to be pretty crappy, so we opted to take another charter.  We're going out with Walt's son Mike, and he's had 2 very good days of the 3 we've been here.  Crossing my fingers for a good day of fishing.
June 12th, Sunday
Wow!  Mike did not disappoint.  We fished with a couple other guys from the Seattle area, Tracy and Nick—they were awesome to hang out with for the day.  Prior to leaving for the day, we agreed that all fish caught would be split evenly among everyone on the boat.
We got to our first fishing hole around 7:15.  It was pretty choppy coming across the south end of Mitkoff Island, definitely not something you would do in a skiff.  We fished for just under an hour and didn't have any hits.  Mike was on radio with Nick, who had already landed a couple.  We motored about 10 minutes away and dropped anchor.  This was the hole where we caught all 5 Halibut in the picture below.  The rules when you are with a guide are 1 Halibut per person and it must be under 43" (37 lbs) or over 80" (276 lbs).  However, if it's between those 2 lengths you have the option to buy one per person for $200—and that one does not count against your daily size restricted limit.  Nick landed 4 of the fish, including the big one which was 68" and 163 lbs!!!  Of course, when this fish came to the boat we immediately agreed we would buy it for $200.  I landed the other one, which I am standing behind in the picture, and it was about 60 lbs.  It's interesting to note that a 60 lb Halibut will yield about 22.7 lbs of filet, or just under 40% of the live weight.
It started getting a bit rough at out hot spot, so we moved along.  Mike took us to another 4 spots over the next few hours, and we didn't get any more fish.  It was time to move into the Wrangle Narrows to target Kings.  We ran Kings from about 2:30-5:30 and sadly it was ice cold—not a single fish on, never mind one in the boat.  But that's OK, we had an awesome day fishing!
Speaking of awesome, here's a short video of Nick landing the 163 pounder.
Dinner was another huge hit.  We had smoked pork loin, salad, roasted vege dish and delicious garlic homemade bread.  Dessert was chocolate cake with light frosting and homemade whip cream on top.  So good.
Tomorrow we plan to get up early (alarm set for 4:30 a.m.) and target Kings in the Narrows for a couple hours.   Come back in time for breakfast at 8:00 (this will be our first and only sit down breakfast for the trip), then decide if we are going out for more trolling.  Need to be back in the cabin by 11:30 so we can check out, get our fish and head to the airport.
June 13th, Monday
We were on the water by 5:10, fishing right out front which is where they had been catching a few fish the past couple of days.  About 10 minutes in, we see a guy get a King on.  Then, around 6:00 when the charter boats were heading out, I got a small King on that we got in the boat.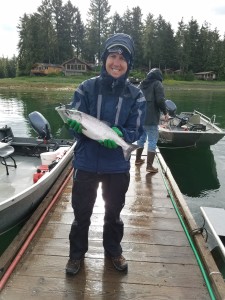 We fished until 7:45 with no more action, but as we were heading in for breakfast we ran into some other guys from the lodge who were down around channel marker 21 who told us they had 10 hits in 10 passes and got 7 in the boat.  So, after breakfast we headed down there to try our luck.  It was about slack tide when we arrived, and on the second pass we got double hit!  Scott and I both had really nice Kings on the line.  I got mine up to the boat, and hit started to run out again.  I was reeling him back again, got him maybe 15 feet from the boat, and the hook broke off.  Damn!  Later, Scott gave me shit for likely having the drag too tight, but he ran with it once and the drag was loose enough that I could pull the line out as the depth increased.  So frustrating.  Anyway, Scott still has his on the line, he reels it up to the boat for the second time.  I've got the net, but he's not ready to be netted yet.  Scott tells me to wait, and the salmon starts taking a 3rd run out.  He's so far out this time, you can't see him.  And then, he was gone.  Even though we were using barbed hooks, he still got away.  This is indicative of how the trip went for Scott.  It was super exciting to have a double strike, and equally as frustrating that we were unable to land either one of them.
Fished a bit more until 11:00, when we had to head back.  Showered, had lunch and then relaxed for a bit until 1:30.  Kenny took us to the airport where we checked our fish—by the way, we ended up with about 100 lbs. of mostly Halibut and a little Salmon, plus 6 Dungeness Crabs.  We easily could have caught more crab, but they can't vacuum pack them so you need to eat them basically when you get home.
After we checked in, Kenny took us to town so we could shop for an hour.  I picked up some souvenirs for the kids, and then we popped into the local bar.  Ordered a couple of Alaskan Amber's on tap, and man were they tasty.  So much better than the bottled stuff I normally drink.
Here are a few other misc pics from the trip.
We had a safe trip home, Judy met us at the airport and we ended an amazing trip.