This year Harrison's Boy Scout troop planned a 5 night, 4 day rafting trip on the Deschutes River in Oregon. We drove down on Sunday July 19th and arrived in Maupin, OR about 5:00 p.m. Maupin (Population 423) is about 90 miles north of Bend and it was a cool 102 degrees when we pulled in. We camped Sunday night at City Park and Harrison tried his hand at catching a trout—it would turn out to be very lousy fishing.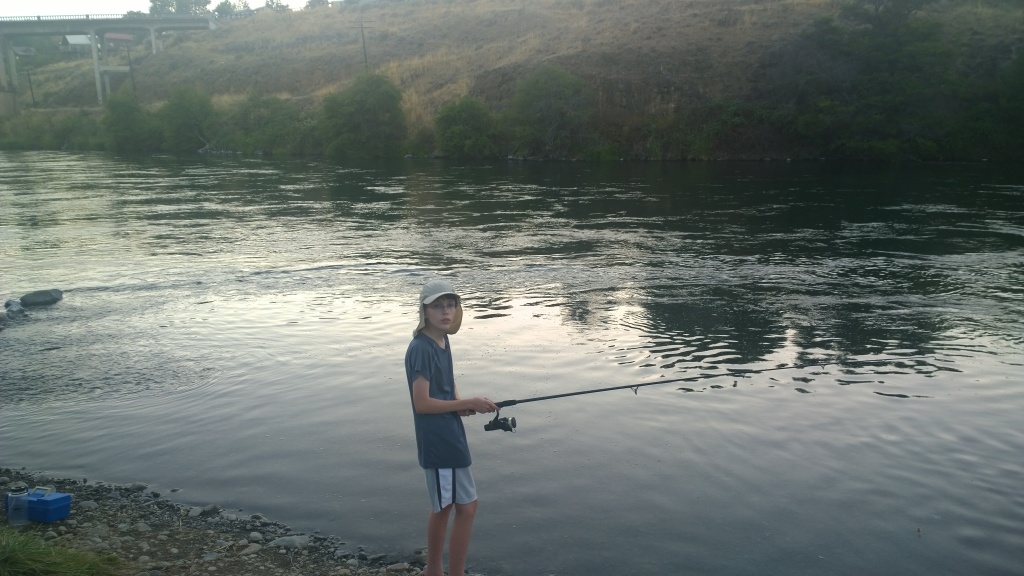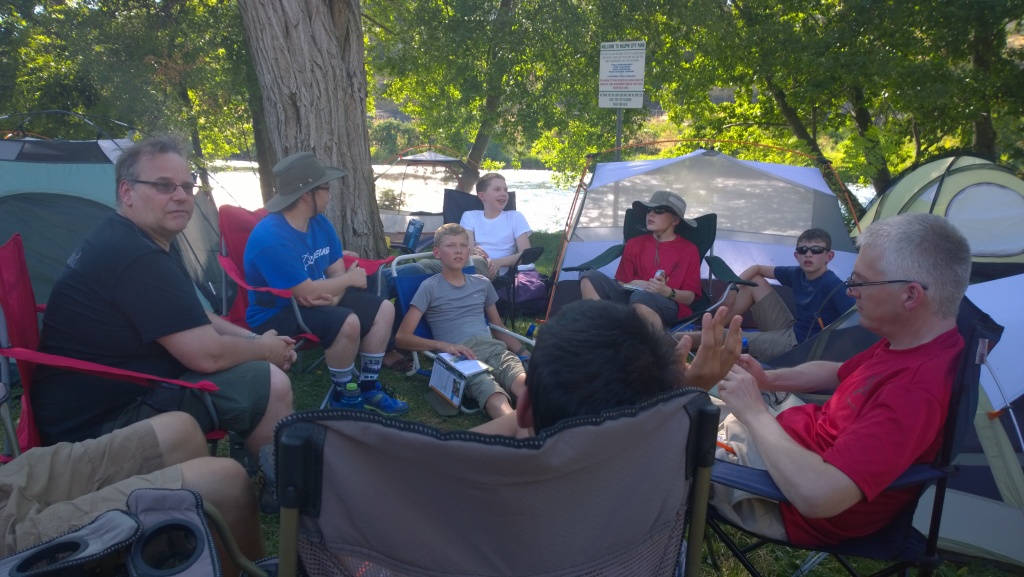 The next morning we joined High Desert River Outfitters at 7:00 a.m. with all our gear packed in dry bags. There were 9 scouts and 7 adults, which mapped to 2 rafts for gear and 2 rafts for fun. During the continental breakfast, we met our 4 guides for the week—Nate, Justin, Aaron and "Captain Kirk." Justin and the Captain are both Eagle Scouts and were happy to be joining us. We all jumped in "the transporter" and drove to the drop point, Warm Springs campground on the lower Deschutes.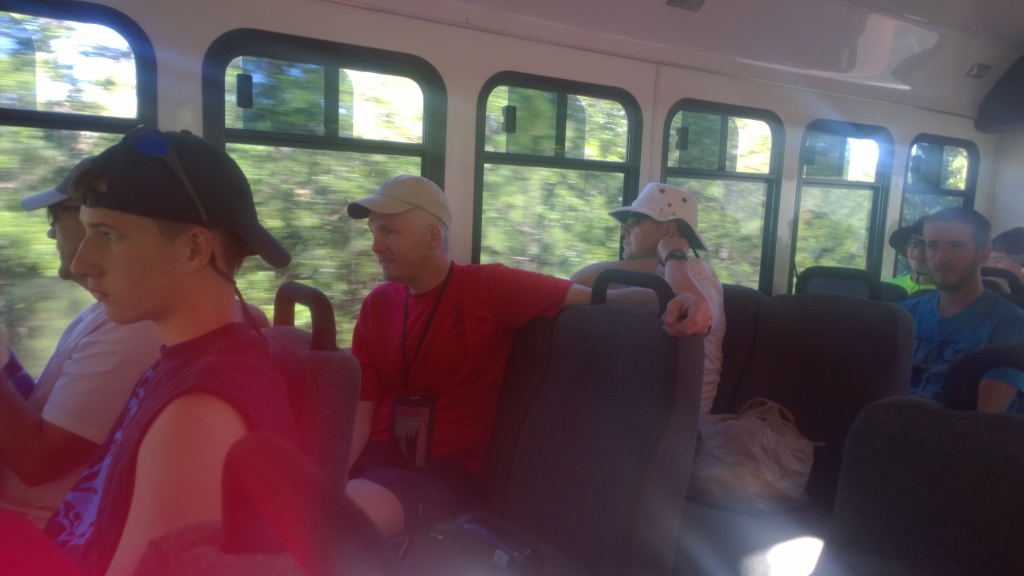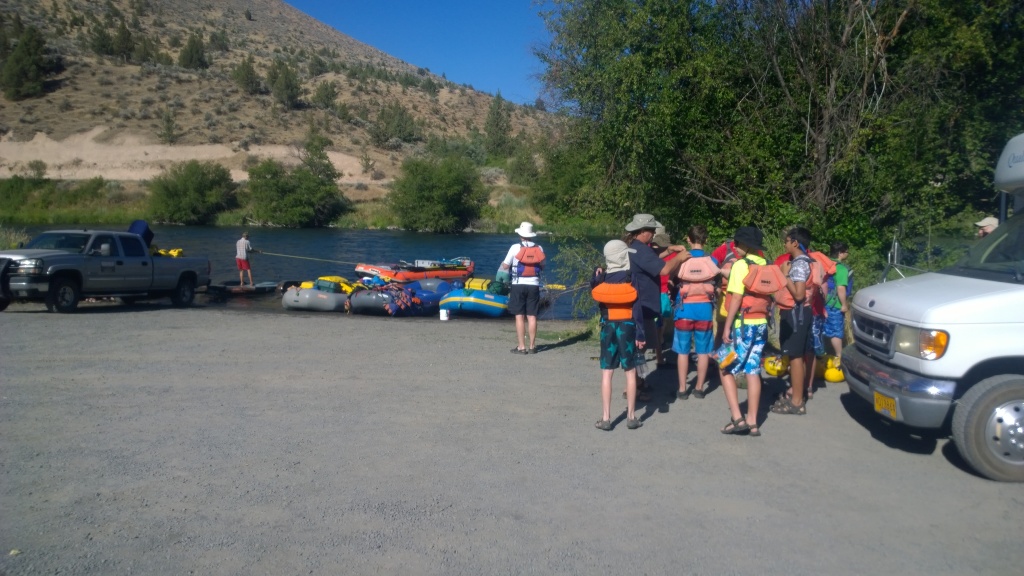 Day 1 – Summer Teeth
As we embarked down the river on the first day, our guide Aaron explained to us that the most dangerous thing on the river was the paddle we were holding. He simply said if you don't keep your hand around the end of the handle, someone is going to end up with "Summer teeth." He went on to say that summer teeth is where "some'r in the river, some'r in the raft and some'r still in your mouth." You really don't want summer teeth.
The plan was to spend about 6 hours on the river each day. Aaron told us the first day was mostly flat so we didn't expect much white water. Around noon, we stopped for lunch which was the first of many amazing meals. I cannot believe how good the food was on this trip, as you will see.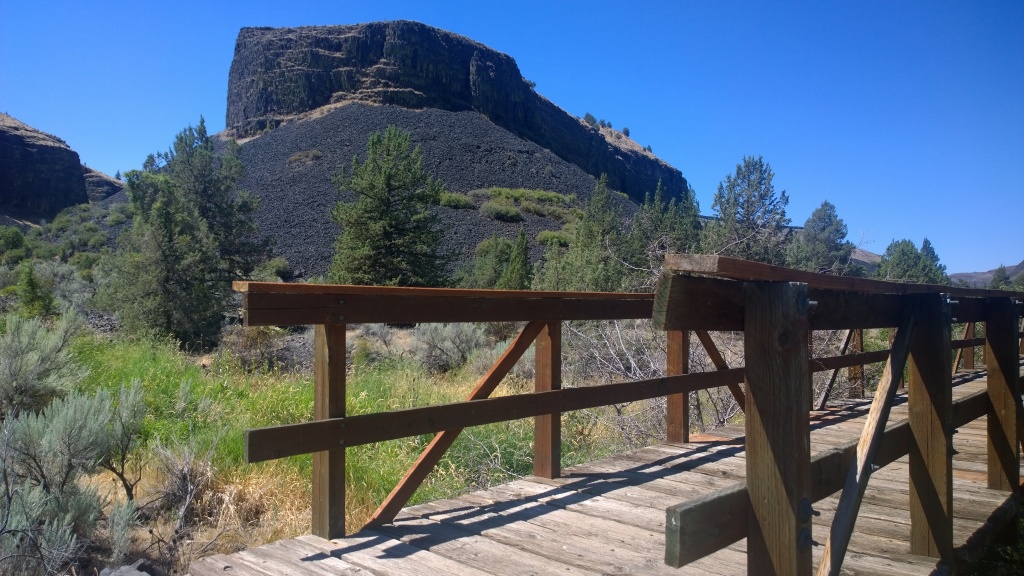 After lunch, we continued down the river where "the games" began. Harrison and Josh Sykes decided to play the trust game—this is where you hook your paddles together and lean back. Someone will get wet.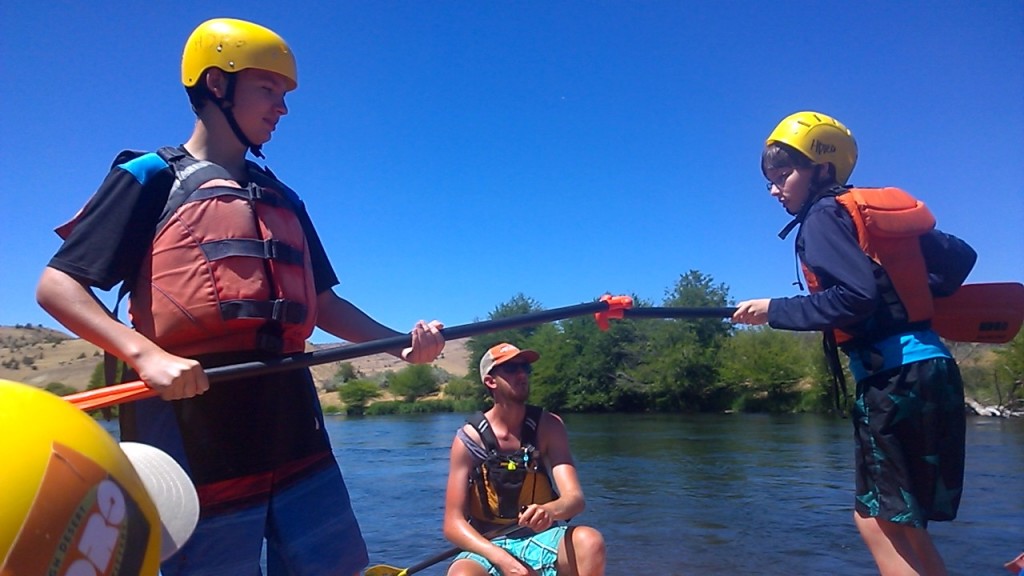 In this case, that someone was Harrison: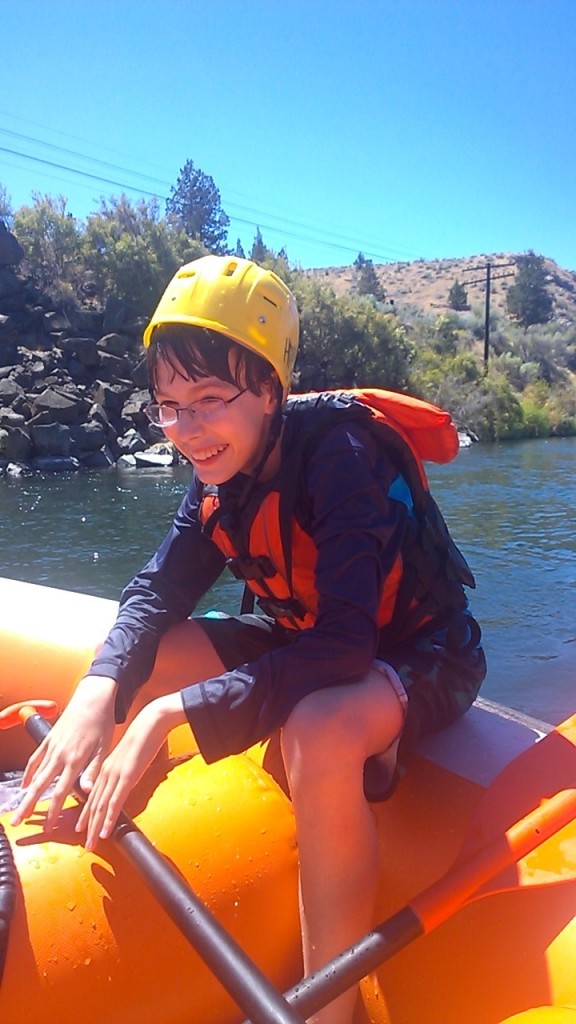 Incidentally, they river temperature was 61 degrees as they were lowering it because some fish downstream were dying due to warm water. The Deschutes river level is controlled by upstream dams so it runs pretty constant—to lower the river temperature they simply release water from the lower portion of the dam rather than the top of the dam.
It turned out they campsite they wanted to stay at was full, so we continued down river and spent a couple extra hours on the water. This meant we *would* see some white water on day 1. We ended the day on the river going through a pretty nice class 3. At camp, Harrison tried more fishing.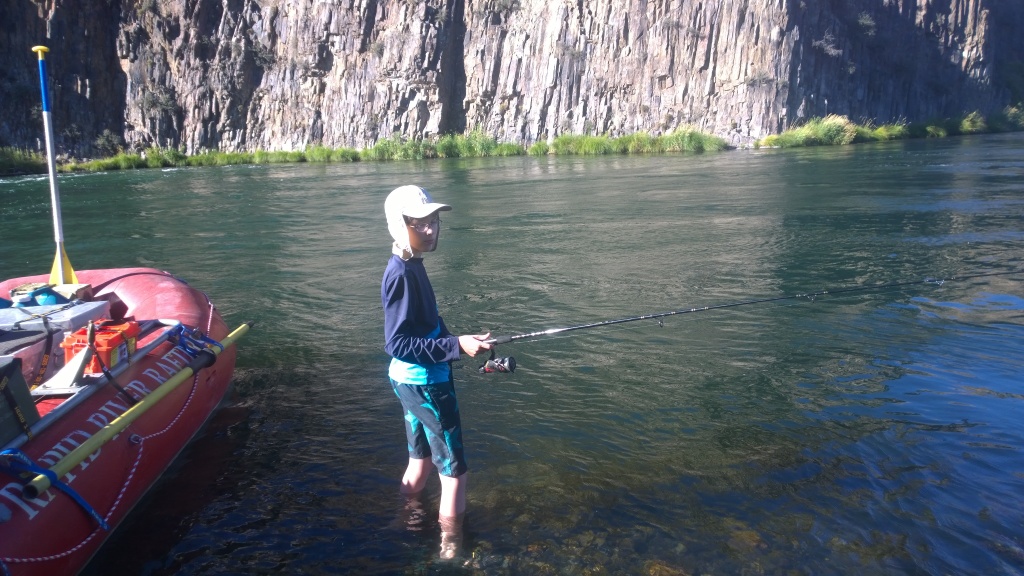 For dinner, we had meat sauce spaghetti and garlic bread. Nate had fresh ingredients for every meal, chopping onions and garlic for the sauce. It was killer.
Day 2 – Floating, hiking, caving and trains!
The day started with a full breakfast of pancakes, sausage and scrambled eggs.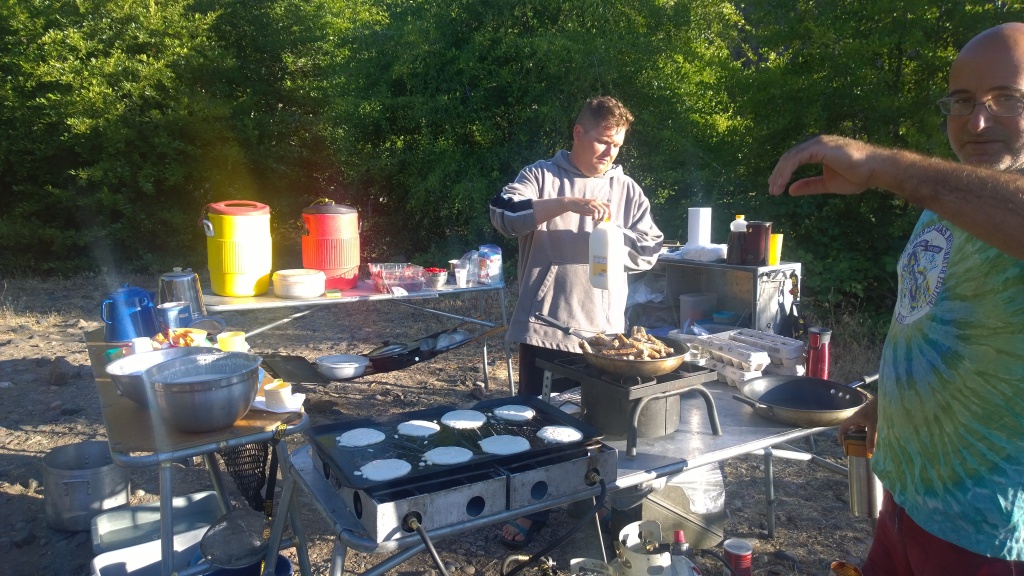 After clean-up and pack-up, we were on the river again.
Harrison had fun trying to shoot the ducks with the water gun.
We arrived at our camp for the day around 1:00. Just before camp was a nice rapid.
This was an awesome place to stay for the day, as there was a section of the river you could jump in and float through some rapids. It took Harrison a while to get up the courage, but he did it!
Across the river, there was a small cave that we explored.
Also across the river was a hill with a flag at the top. Harrison wanted to climb to the flag; I thought he was a bit crazy. But once we were on the other side to check out the cave, we had to see how hard it would be to get to the flag. In the picture below, if you look really close, you can see a white spec at the top of the hill. That's the flag.
So we started climbing.
And climbing…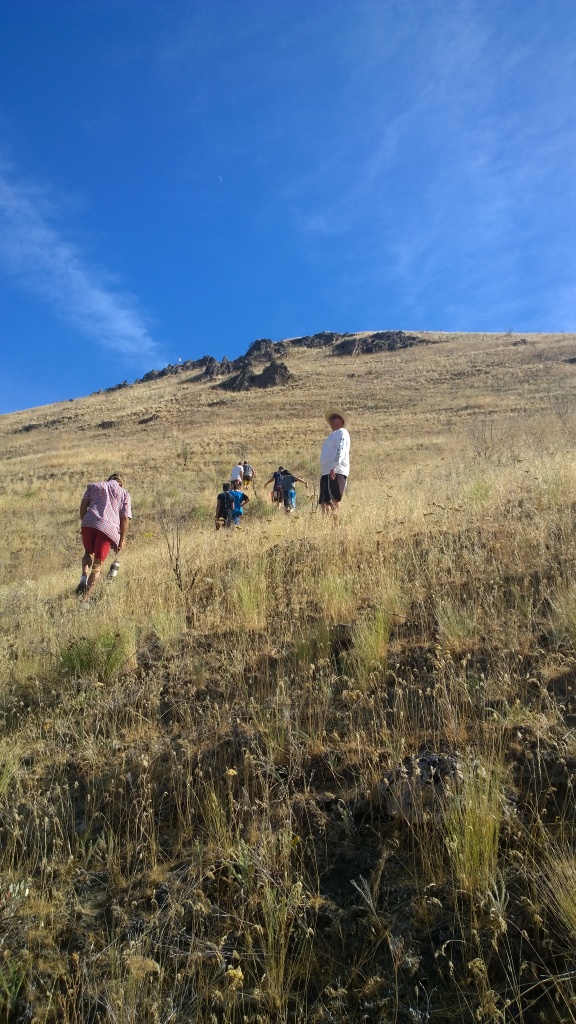 We split into 2 groups—the "Lower summit" and "Upper summit" groups. I stayed back with Justin, William, Ben and Oliver. Harrison continued climbing with the others.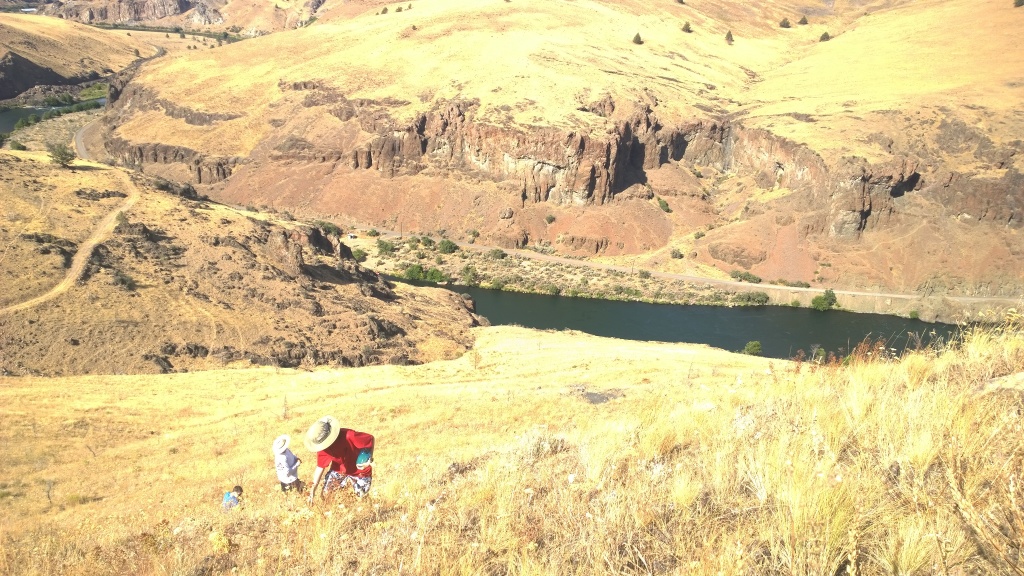 Ben and Oliver.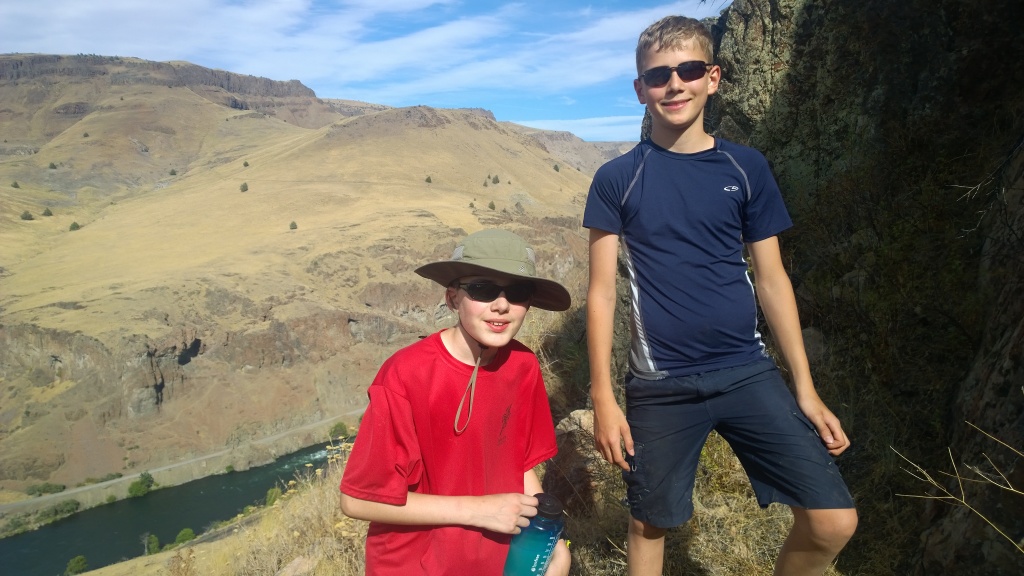 It turned out to be only 500 vertical feet to the flag, but things got pretty steep near the top and nobody had the right hiking shoes on. After we descended and crossed the railroad tracks, we were climbing down the rocks to the raft and a train started to come. I was last man in line, so I had a pretty good view of this locomotive coming right at us. I figured now would be a good time to take a video since I'll almost certainly not get this opportunity again.
Here's a picture of Harrison and the other scouts who made it to the top.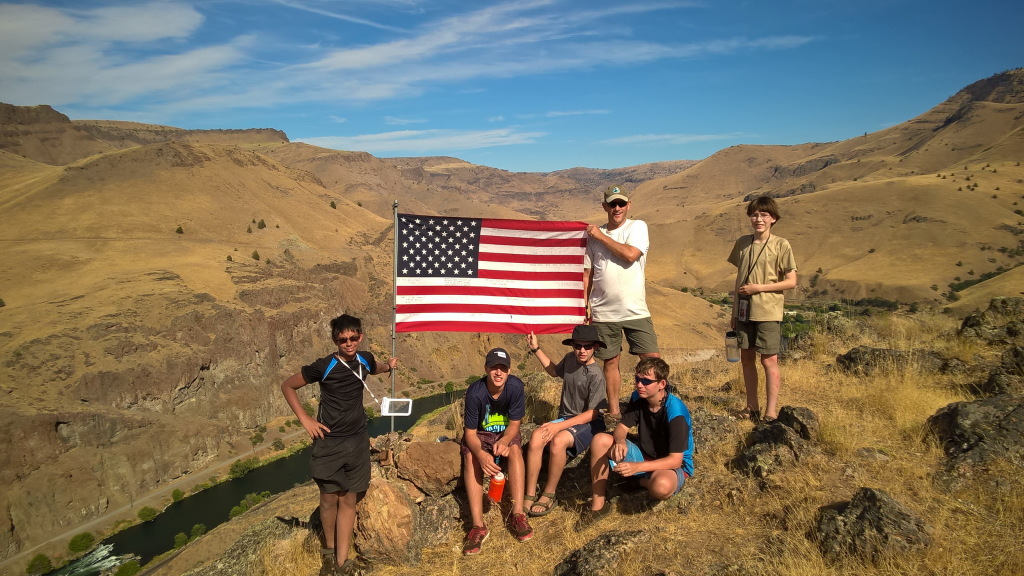 By now, we had a bunch of hungry scouts (and Dad's) so it was time to get rolling with dinner – Taco Tuesday. Our troop got a discount on the trip with the understanding that the scouts would help make the meals and clean up afterwards.
Day 3 – Time for some real white water
After striking out fishing the first 2 days, I finally landed a couple of small trout while everyone else was sleeping.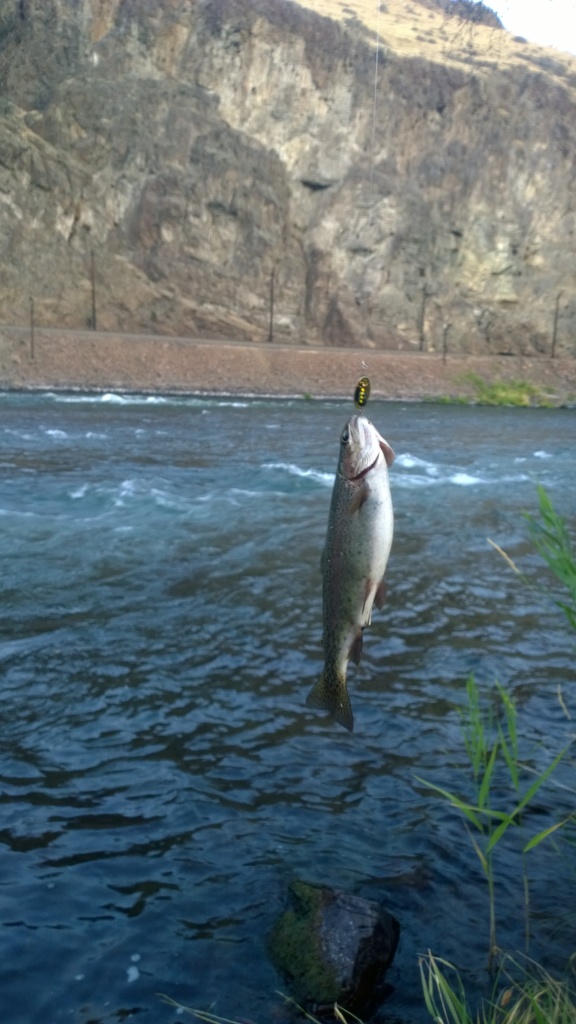 We hit several class 2 and 3 rapids then stopped for lunch.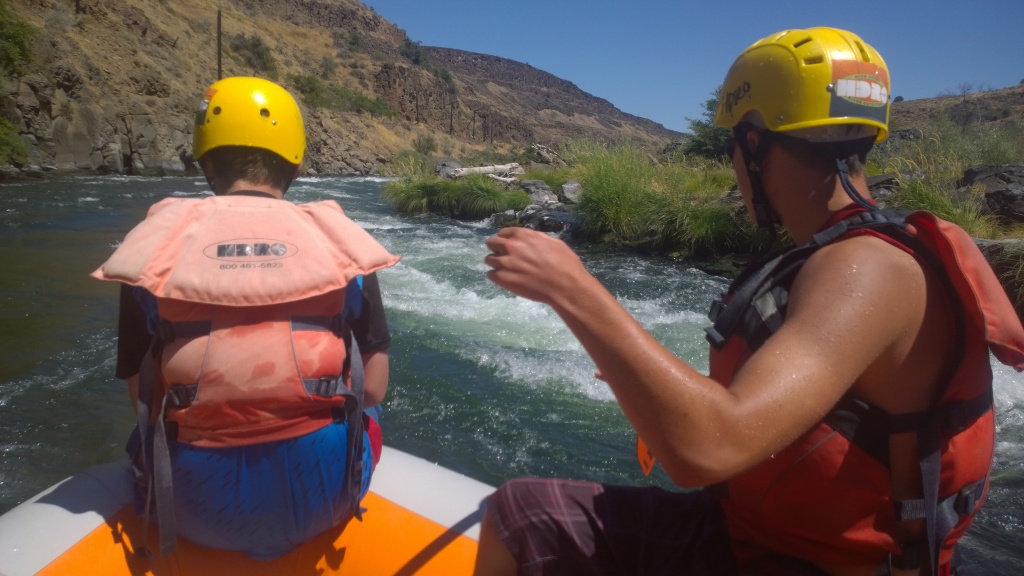 The first rapid after lunch, Oak Springs, was the only class 4 on the river. I don't have any pictures of it because you come around this corner and hit about an 8 foot waterfall (not straight down, of course, but probably 30-40 degree angle). Everyone in the raft has to "get down!" where you turn your knees to the center of the raft and get your butt down to lower the center of gravity. The raft slams into the hole at the bottom, fills with water, then you get back up and start navigating some nasty rocks. It's the combination of the waterfall and what's after it that makes this a class 4 rapid.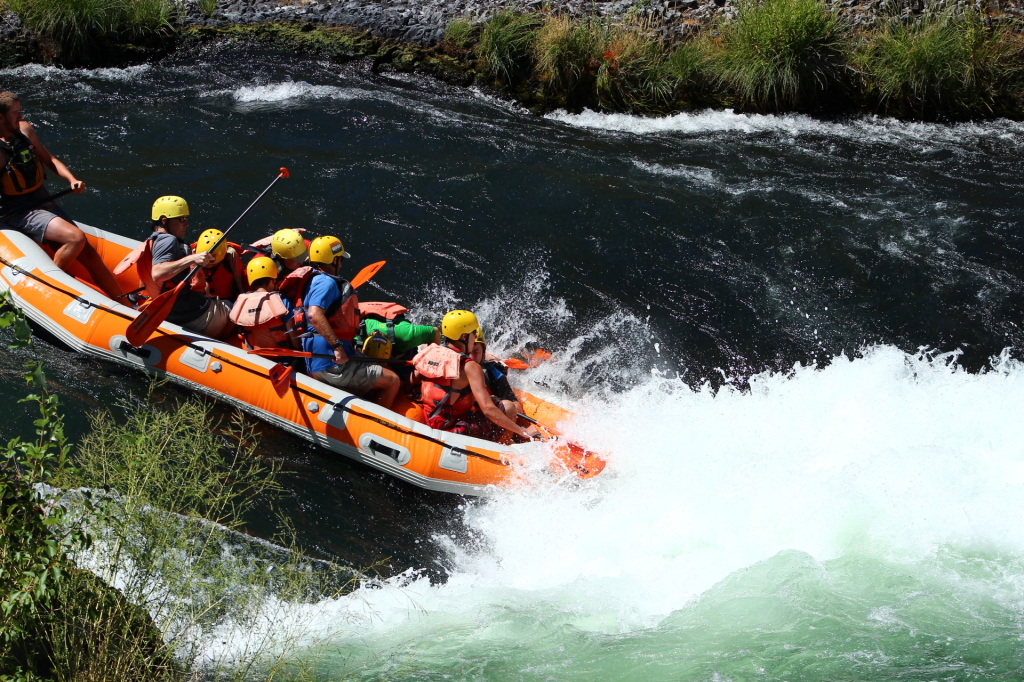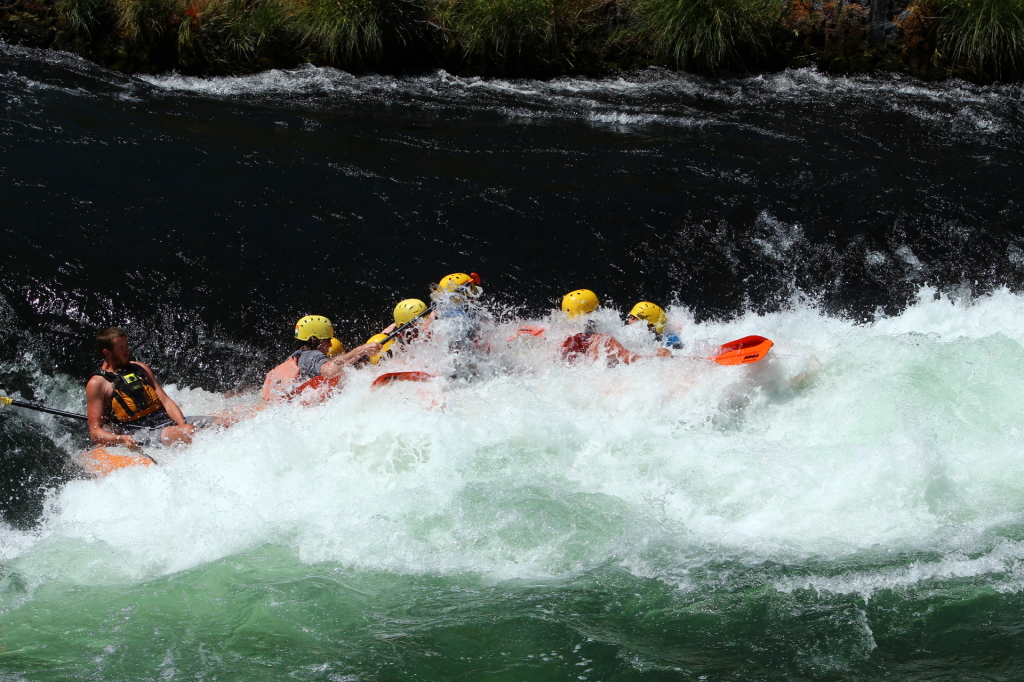 Here's a good video from day 3:
One of the fun things to do was "ride the bull" where someone would sit on the front of the raft with their legs dangling while we went through the rapids. Here's Harrison taking his turn.
And what would a rafting trip be without some good water fights between friendly scouts.
Dinner on Wednesday continued the streak of epic food, levelling up with this.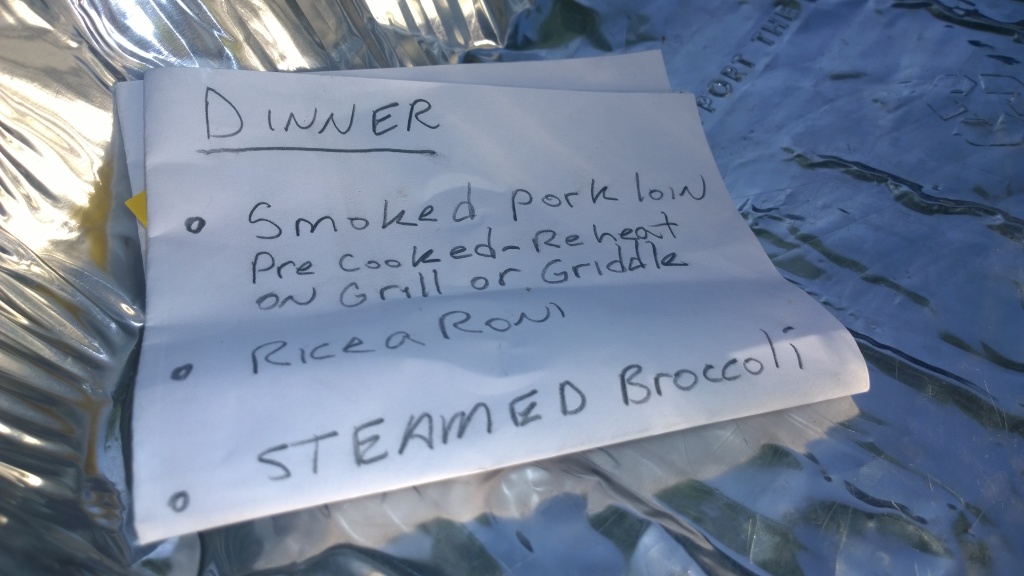 Harrison continued trying to catch that elusive fish.
Day 4 – Repeat the best of day 3, plus bonus downriver section
The last day we repeated the best sections of the river from the prior day. There was one small difference going through Oak Springs today—we high centered the raft on those nasty rocks after the falls. Took us a few minutes of moving folks to various parts of the raft and a couple of us pushing off with our paddles to finally break free. Of course, the scouts in the other raft had already successfully gone down and were watching us from an eddy. They laughed.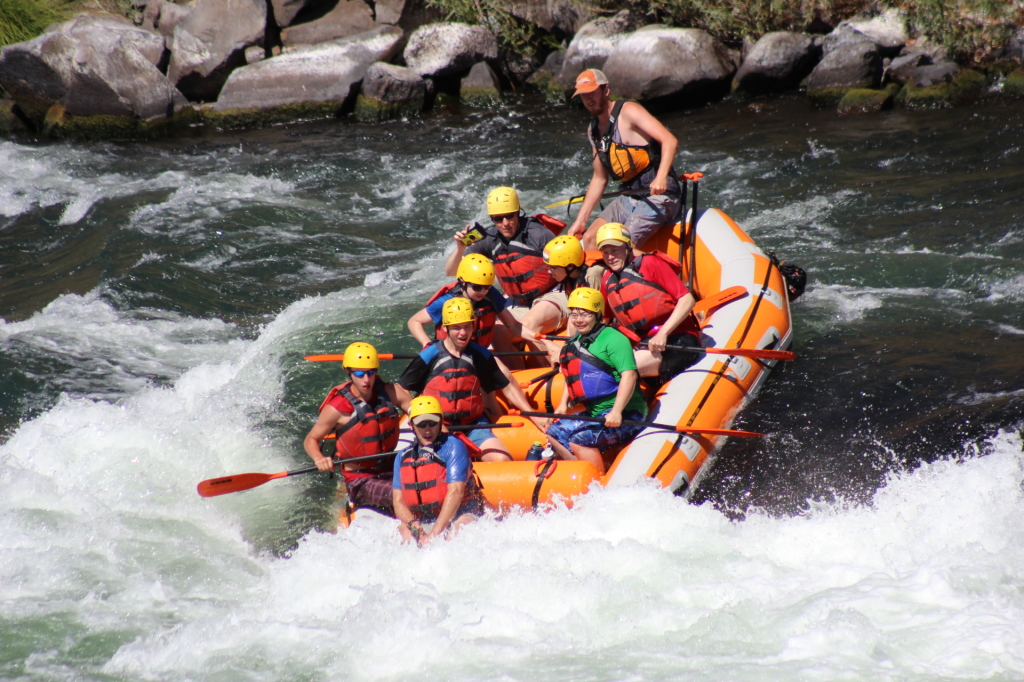 This time, when we reached the take out spot, we loaded the rafts and went about 2 miles downriver. This was necessary because there's a class 6 rapid/waterfall that is really not navigable. Oh, and there's a $12,000 fine if you try to go down and get caught. Not to mention you would probably die. We got to see the rapid from "the transporter" as we drove by. It was pretty epic. Another cool part of the river here was where it reduced down to about 15 feet wide—this section was several hundred yards long. Justin told us it's about 95 feet deep through that stretch—very cool.
We finally decided it might be good to get a group photo.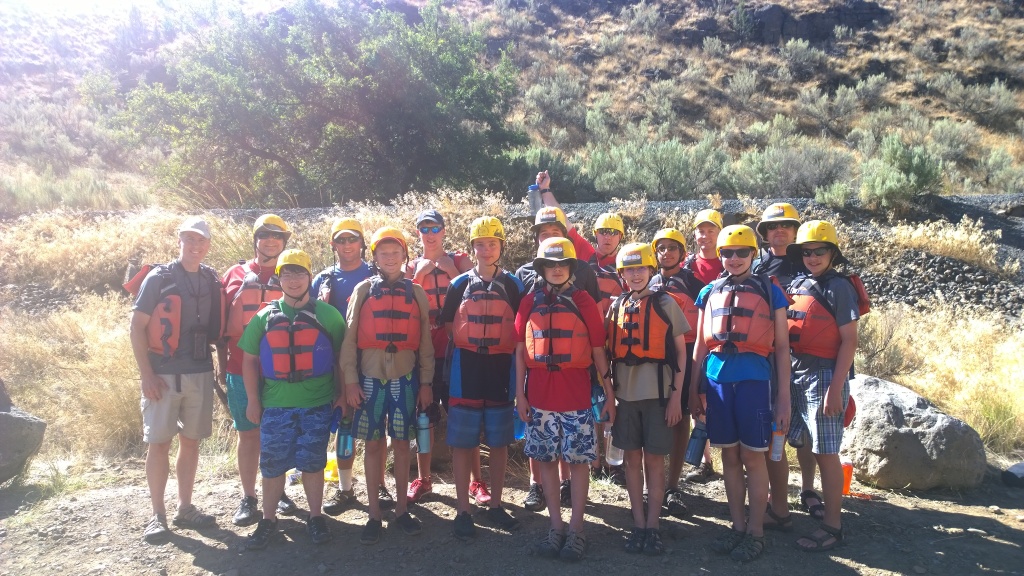 Harrison and I waiting while the load the rafts.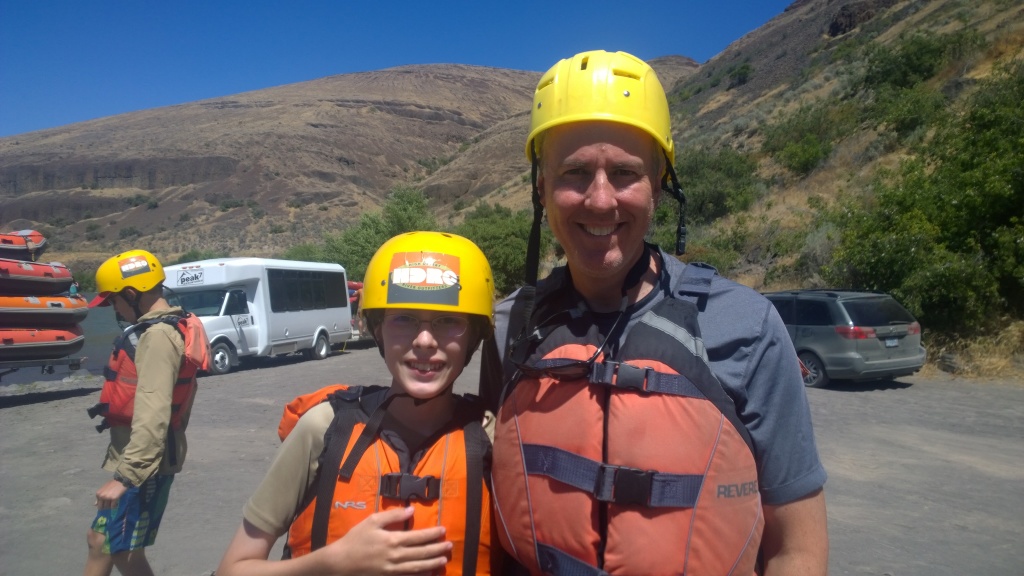 Here we are in a very crowded van driving around the class 6 rapid.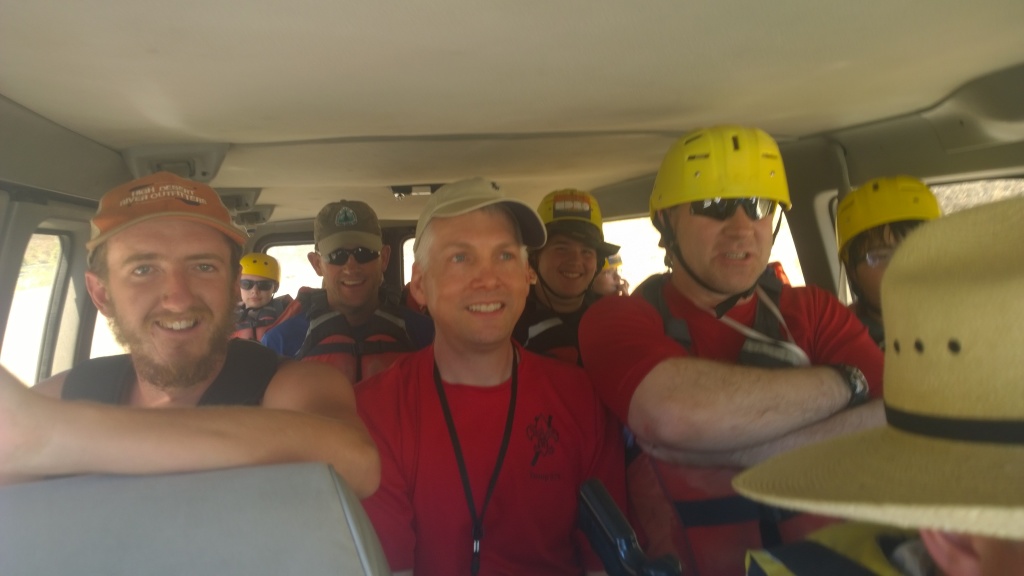 There were a couple of cool rapids on the lower section of the river, and some small canyons that were fun to float through.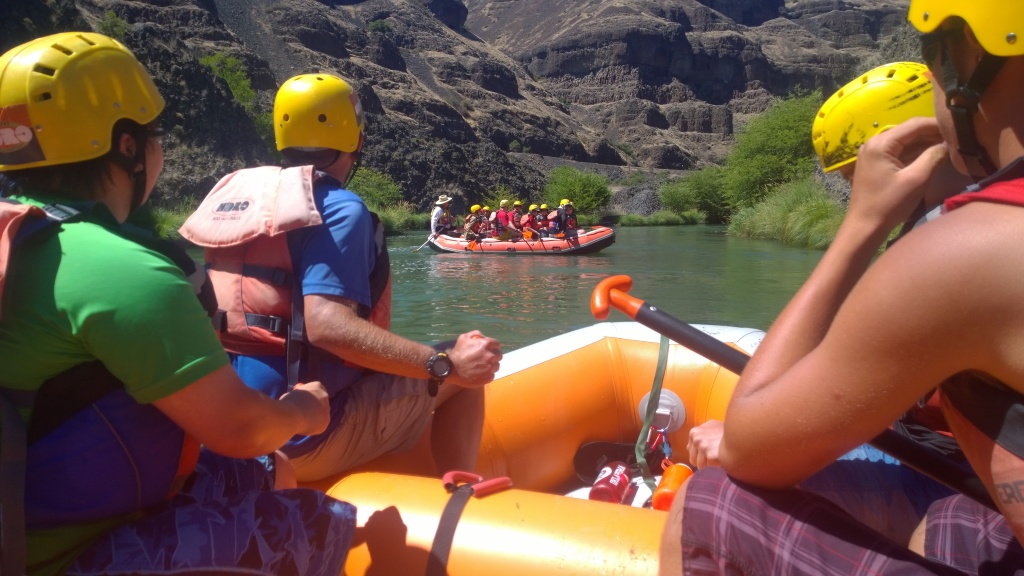 We pulled off the river for a minute to see some hieroglyphics.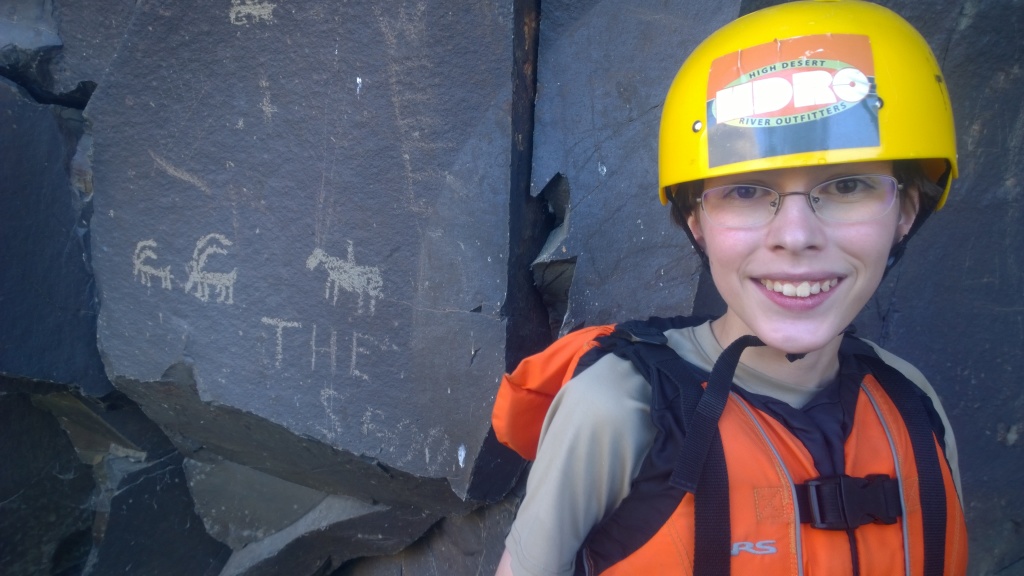 After the final take out, we headed back to camp, thanked and said goodbye to our awesome guides, and camped one more night.
Day 5 – Ape Cave at Mt. St. Helens and drive home
We woke up early, packed and had breakfast, then a short after meeting.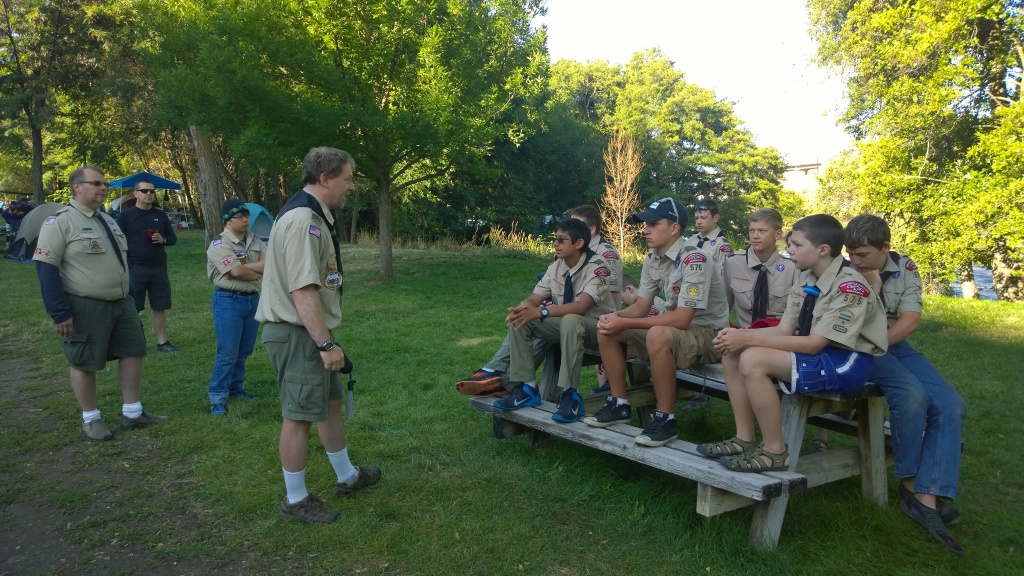 Even after all this time together, the boys had great attitudes. There was no fighting or bickering, just great fun and great times.
We hit the road by 8 a.m. and headed for Ape Cave. This is a 1900 year old cave that was formed by lava. It's the longest cave in WA, and has an upper and lower section. Since we had a long drive home, we opted for the lower section only. This is about ¾ mile long, and anywhere from 6-20' wide and 5-40' tall. Near the end, it tapers down and you need to shimmy on your stomach if you want to get to the very end where there's a small area that you can stand again. It's about 42 degrees in the cave, and pitch dark. However, since this is in the national park, it's pretty popular and there were a lot of people in the cave with you.
Here we are descending into the cave.
And in the cave.
The drive home was long. Scouts were tired, and there was a ton of traffic. But we had an AMAZING time.