This Monday morning I found this funny:
But first we have to go back to a very long weekend; we are usually busy folks, but when it comes to bed times, I'm a stickler.  I like to get the kids to bed early; but this just wasn't the case this past weekend.  Let's start off with Friday after school –
Harrison's tennis season came to an end with a party held at school to recognize participation.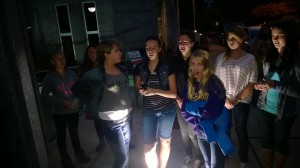 Then Friday night Harrison and Heather both went on a church youth group sponsored boat cruise in Seattle.  They left at 6:00pm and didn't arrive home until well after 11:00pm.  Harrison was exhausted only to get up and be at Boy Scouts / Webelos Woods meet up by 8:00am Saturday morning.  Harrison was also the grubmaster, so Friday after school and before going to the cruise, he had to prepare and cook lunch and breakfast for 8 other scouts.
On Saturday, Harrison traveled to the Webelos Woods event, did recruiting and his grubmaster duties and slept over, working on all sorts of merit badge and Eagle requirements.
Heather, on Saturday, got up for a soccer game, (they won and she scored too); then cleaned her room (a feat in itself) to get ready for a Halloween Party she was having that night.   Eight of her friends, boys and girls, over for some light snacks and a run through the Nightmare at Beaver Lake, which our family has never done before.    The party was a success, kids had fun and are planning to do the 'full scare' next year!  Last of the guests left late and Heather was to bed about 11:00pm.
Harrison returned home extra early Sunday morning with another mom and scout; he had to wake up at 5:30am and drive back to arrive about 7:30am.  Then he was up, and tired.  Unfortunately, we still had another soccer game of Heather's, to attend and then the family was going to the Sounders game that night.   Harrison caught a break by staying home during Heather's game to rest and get ready for the Sounders; Harrison was going to stand all 90 minutes during the Sounders game, because of our tickets and the section we usually sit in.  BTW-during the Sounders v. Galaxy game, the one minute Harrison sat down, in the 79 minute of the game, the other team scored!  UGH!  We blame the tie on him!!! jk
Heather played her Cup soccer game to another victory, scoring a beautiful goal and helping assist in one other.   Then it was off to the Sounders game with her family meeting up with her soccer team and Coach Brad.
Arriving home about 9:00pm, the kids were tired and went straight to bed.
So, this morning at 6:00am, when both middle schoolers needed to leave the house at 7:00am, I hear Heather's alarm beeping, beeping, beeping, beeping, beeping, beeping, beeping, beeping. Heather's head right next to it.  Not a move.
Harrison, in his room next to her's, slowly emerges with a:
"Can you tell Heather to not set her alarm.  It just goes off and wakes me up and she never shuts it off!"
And then Heather retaliates with:
"Well your alarm goes off at 6:20 and wakes me up!"
As Harrison is closing the bathroom door on her comment from her bed, shouting, "No it doesn't!"
10 minutes later, while Harrison is in the shower, his alarm promptly goes off at 6:20am, to annoy and wake up Heather.
I heard all of this from my bedroom and bathroom.  I thought it was funny.
Last note: Not to be out-done, on Friday night Holly had her Harvest Party to go to; Mom and Dad were family friendly CDI from Monsters, Inc. (or Breaking Bad's Walt & Jesse to the grown-ups).  Saturday, a birthday party that lasted until 10pm and Holly also came to the Sounders game, as it was Girl Scout night there as well!