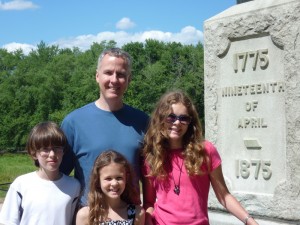 It wouldn't be a Keyser vacation if we didn't do something historic or educational.  Soon after we touched down in Massachusetts, we took the kids for a day to Concord, MA and the MinuteMan National Historical Park and Visitor Center.
We started with the Road to Revolution, a 30-minute multimedia program, that the kids really loved and even Greg gave it a thumbs up!
Interesting facts:
The reason the British marched to Concord, was to destroy the militia stores of cannons, guns and equipment.  They didn't realize how far it would be to march, and were ambushed when they arrived.
There were two riders taking separate routes from Boston to Concord, to contact John Hancock and Samuel Adams, and to warn all the farmers and villages all along the route.
Paul Revere and William Dawes met up together, then with a third rider, Dr. Samuel Prescott, were eventually captured by the British.  Revere was released two hours later without his horse.
We got back in our car and drove past Paul Revere's capture site and stopped at Hartwell's tavern.  This was a house that many travelers stopped at for a drink or company on their way to Boston.  It also became a site of the running fight between the British Regulars and the Massachusetts militia as they pushed back to Boston on Battle Road.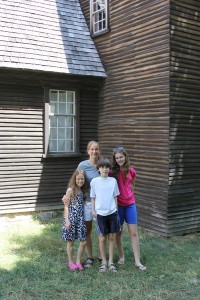 Harrison and Holly bellied up to the bar in the tavern.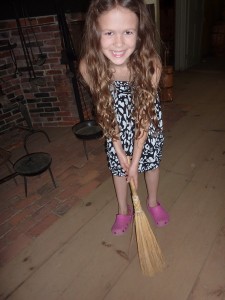 Holly also took it upon herself to clean up, sweeping and doing the dishes…hmmm, can we get her to do a little of that around our house?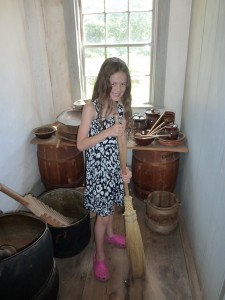 Then, a short walk down Battle Road we were entertained by a musket rifle demonstration performed by a couple of park rangers.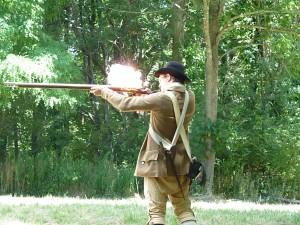 After the demonstration, we read in a flyer that the North Bridge opened a new visitor center so we decided to go there as well.    On the way, we stopped at New London Style Pizza for lunch.  I had a grinder; Greg and the big kids: pizza, Holly a salad.  It was perfect!
The North Bridge site and visitor center wasn't as exciting, a short 8-minute video after a beautiful but long walk to the visitor center, was nice, but it was just about enough.  (I think we had lunch legs).     Harrison and the girls made some purchases in the gift shop.  Read about how Harrison's memento got him in trouble later on.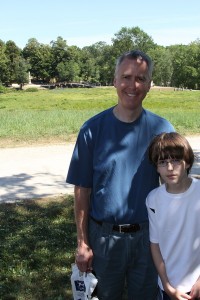 A statue of Daniel Chester French, a famous Minute Man, and a park ranger stands guard next to the grave site of British soldiers.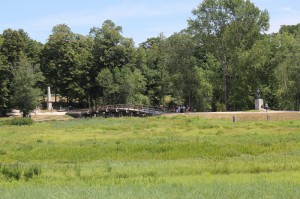 After a long, hot walk, it was time for some ice cream at Bedford Farms, in Concord!  YUM!  Extremely pricey for this ice cream, but it was tasty!  Some of the best.
Last historical stop:  (Are we done yet????)
Down the street from Bedford Farms/New London Pizza are the grave sites of some famous authors: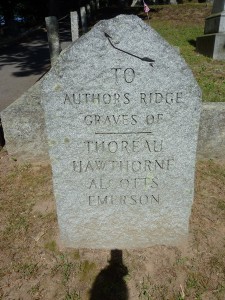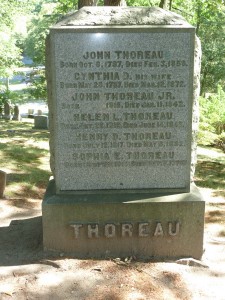 Be not simply good – be good for something. Henry David Thoreau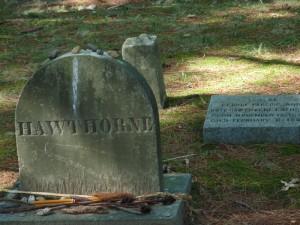 Happiness is a butterfly, which when pursued, is always just beyond your grasp, but which, if you will sit down quietly, may alight upon you. -Nathaniel Hawthorne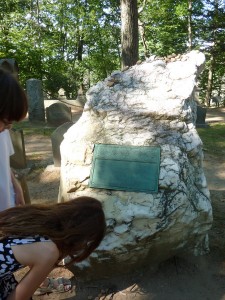 All life is an experiment. The more experiments you make the better. -Ralph Waldo Emerson