In a very rare occasion, Holly and I were left to our own devices last, long weekend.    Heather was away in San Francisco, California with her choir, singing their hearts out and winning 1st Place in the Historical Folk competition; and Heather taking a Bronze victory in her first ever, solo vocal competition!
Greg and Harrison were away at Boy Scout Residence Camp; Harrison working towards his Arrow of Light and hoping to earn a Super Achiever award later this school year.
These conditions left Holly and I at home; and boy did we have fun!
Holly was already enrolled in Set to Be a Vet camp, put on by the Pacific Science Center, and attended at the Medina location.  (There are Redmond, Bellevue and Bothell locations too.)  But the Medina location was close and it was awesome!  She loved the camp, the counselors and made new friends.
After camp on Wednesday night, we headed over to REI to climb the pinnacle.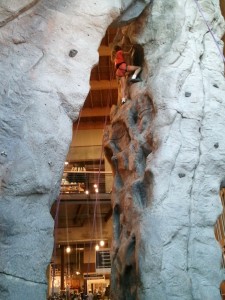 When the camp got out at 4:00pm on Thursday, we promptly cruised over to Oh! Chocolate in BellSquare Mall  for a couple of truffles and dark chocolate haystacks.  YUM!
Then it was a 4:30pm appointment for a couple of mani/pedis at Sweet Feet.
Not done yet!   Off to dinner at one of our favorite go-to dinners: El Toreador just steps away from Sweet Feet.   Then, it was a quick hop over to Paint Away in Redmond Town Center for an evening of art.  Can't wait to see our results next week!  Holly wants to do a camp there too!
On Friday, after camp, I picked up Holly with my skates, jeans, gloves and jacket in the car.   Rollerblading at Skate King, Bellevue, would have been a great summer thing to do…but Holly wanted to go ice skating at Castle Ice Arena, Renton.    We were the only ones on the ice (smaller rink), while hockey practice was going on the larger rink.   But we had a blast, as Holly made up a chase-game and we didn't have to skate in a circle.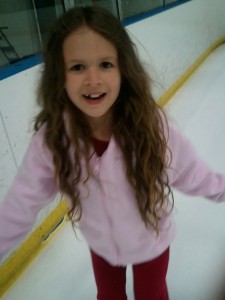 After skating, it was home for dinner and a movie: Tangled – 'frying pans, who knew?'
Onto Saturday: up early to catch the 8:45 ferry, (we arrived in line at 8:44am!)  I wouldn't recommend this, but I took a wrong turn and ended up in a different part of Seattle.  Easily, back on route, we caught the ferry to Bainbridge in time.
A foggy trip over (couldn't even see the city after we left the dock), we arrived a quick 35 minutes later.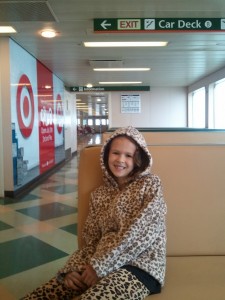 We had a quick breakfast snack, coffee and hot chocolate right on Winslow Way at the Blackbird Bakery.
Originally, I wanted to go to the bookstore across the street, but we headed out window shopping down Winslow Way, as some of the stores were not open yet.  We first got into in a candle store, and some other cute boutiques.  Then we were onto Madison Avenue and I noticed a store called HollyDays — just like Holly's Blog name.  So, we checked it out.  It was a very Victorian shoppe that had lots of artists consignments.  I was able to take this picture of Holly before we were told, no pictures in the store.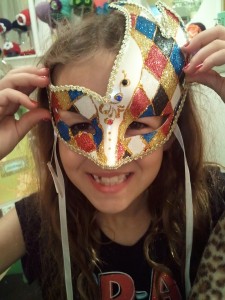 Next to that store, was a toy store for little kids and it's sister store next to that for big kids.   Holly found lots of fun things to do in both of these stores.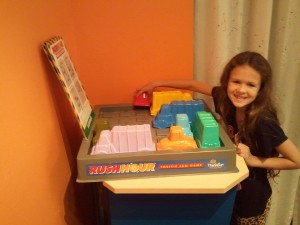 This big game of Rush Hour was a blast to play.  Plus we played some penguin game, and a skills game and around of Zingo.  While we purchases our wooden Kadamas and Ultimate Master Mind, a little girl came into the store asking where Waldo was.  Come to find out, the bookstore (that I originally wanted to go to) Eagle Harbor Books was hosting a "Where's Waldo" event.  Stores in the downtown area post a sticker saying that Waldo is in the store and tourists and residents have to 'find' him in the store to get a ticket.  Collect 8 tickets, and return them to the bookstore for a button.  Collect 16 and get entered into a drawing.    We assumed we weren't going to find 8, so we didn't even look in the toy store that we were in, but as the day went on, that was our mission.   It took us into stores that we wouldn't have gone into; but it was a very fun scavenger hunt!  Plus, Holly got a button out of it!
Hungry at this point, we headed back towards the car on Winslow Way, and had to move the car.  We parked in the back of Winslow near the farmer's market, and Holly had some yummy green peas.   She also had a balloon artist make her a humming bird, after asking him, what was the hardest thing he ever created with a balloon.  (He said a frog).  Then we found The Fork and Spoon and had lunch; and a bathroom break.  The keys for the bathroom were attached to a Fork and Spoon, and the signs on the doors were either a fork or a spoon; very clever.
A step out the door of the Fork and Spoon, and actually towards where we parked the car near the farmer's market/City Hall, was Mora's Iced Creamery.  Now, if you know me, homemade ice cream is what it's all about.  We could not get over the size (prices) for the two ice cream cones…from the picture you can see Holly with a spoon, because half of her ice cream cone we scooped back into a cup.  Two scoops were HUGE, even for me.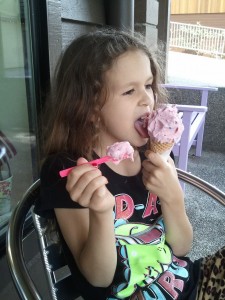 But the ice cream was absolutely amazing!  Mora's was just named one of the best in the US by Food and Wine Magazine.  Holly went with the strawberry and I went with the signature Mora (blackberry).  YUM!  We were so full when we took the ferry back to Seattle.