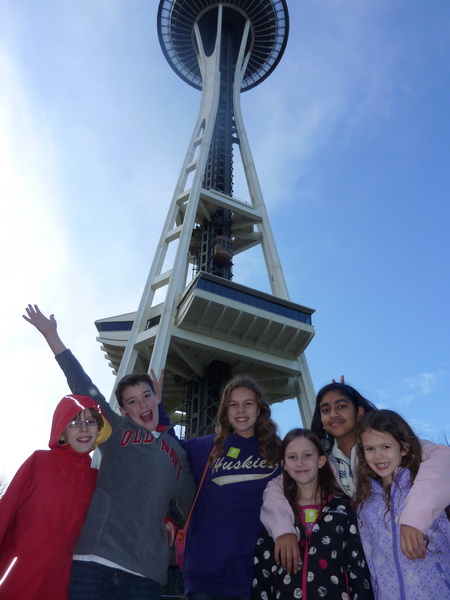 Several times during the school year, the teachers have an "in service" teaching day, and all of the kids are off from school.  Not to panic…sometimes I plan a big 'house cleaning' day, because it usually means that I don't have to drive anywhere, but this month's LEAP day was different.
About a week before our LEAP day, I asked the kids to invite one friend to see The Lorax movie, but heading off to the local movie theater would only knock off two hours of the day.   So, the invites went out to three friends to join us at the Pacific Science Center IMAX 3D screening.   After we parked and got our tickets for the movie (only $3.50 with Microsoft Prime), we skipped down to the EMP | SFM  (also used MS Prime to get in) and checked out the Avatar exhibition, trotted upstairs to the Sound Lab, for a massive jam session; then we checked out Roots and Branches and ate our sack lunches in their cafe.
A nice walk back up to the PACSCI, this time, it wasn't raining; so we noticed the construction of the new Dale Chihuly's Garden and Glass will be the largest exhibition of Chihuly's works, right at the Seattle Center!
The movie was shown in the PACCAR theater, see my review: The Lorax in 3D.