I cannot believe that it was already a year ago and I was celebrating my birthday month with a trifecta of events: The Elton John and Billy Joel, face to face concert with my honey, Greg, Tina and Mark too.   
They started with a duet of about 9 songs; then Elton John sang for an hour, while "Billy took a nap," Greg said…noting these "old men".   Then, Billy came out to sing solo for about another hour and then Elton joined him for the concluding duet of Bennie and the Jets and Piano Man.  These pictures were taken from our seats.   
Then I took a morning off and drove into Seattle to sit "backstage" with Bob Rivers, Spike, Joe and Maura from KZOK.   The backstage isn't very backstage, you actually sit right in the sound booth in between Bob & Spike.  It was awesome.  Being a former DJ and the fact that I have been listening to Bob Rivers since his days in Mass on WAAF, plus – Greg and I bonded over our first Christmas together as we listened to Bob's Twisted Tunes.    Another interesting fact is that my sister was an intern at WAAF during her college years at Emerson, and had worked with him.    
It was an amazing experience; at the end of the show, I got to talk with Bob, who sat leisurely back in his chair (unlike during the show, he sat upright and down to business the whole time, switching controls for sounds and speakers, music and bits.)  his feet up on the desk.   He signed a CD copy of the twisted tunes I brought in, and Spike took me aside at the end and gave me a calendar and some other trinkets.  We talked about our kids.   I said a quick hello to Maura who was tucked back "in the newsroom", her own sound booth.    
Fastforward to today: Bob & and the Show are off the air.   They left under a contract dispute and I haven't listened to KZOK in the morning since.  But they are returning to KJR 95.7 April 1st, 2011!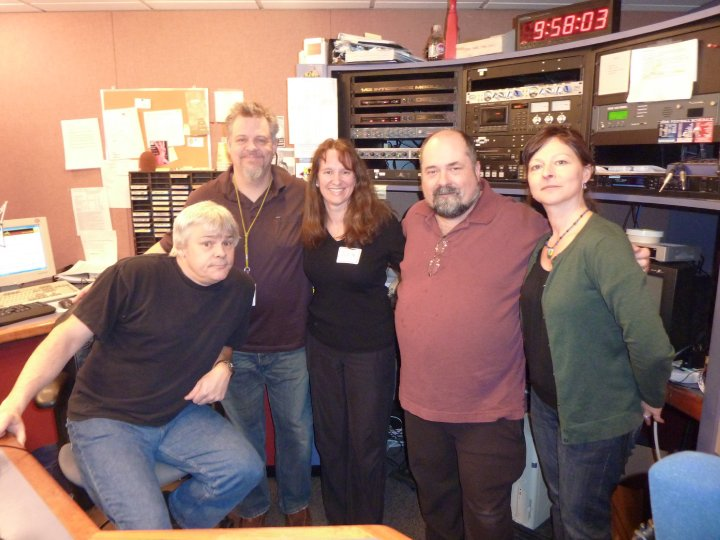 The last, but not the very least thing that we did last February (in 2010) was go to the Winter Olympics in Vancouver, BC Canada.  It was awesome!  The trip was about 4 years in the making; and about 2 years before the Olympics were scheduled, we were in the lottery for tickets.  About a year before we were looking for lodging and then finally, it was here.  I cannot believe it's been a year already.  We celebrated my birthday with some gourmet cupcakes in our hotel suite.  We had to take a bus, to the train to get into Vancouver from Langley, but it was all worth it.  We did plently of sight seeing, eating fantastic food, celebrated the Chinese new year in Chinatown.   We saw the Canada women's hockey team beat the Swiss and then they went on to earn gold.  It was an amazing game, and the kids were so fantastic!   I love being away for my birthday, it's so festive!   However, this year we'll be at home, celebrating Valentine's Day and having our traditional birthday cake, Princess Torte from Hoffman's Fine Pastery, Kirkland.