Rating: Worth my time (and kids loved it)
See it: stream or rent it
My ultimate favorite movie critic, Roger Ebert introduced me many, many years ago to the Japanese animated movie maker Hayao Miyazaki.   The first movie we saw (and purchased) by him was Spirited Away (2001); next was Howl's Moving Castle (2004).  So naturally, when I heard that one of his creations was available to rent, we checked it out.  Ponyo(2008) is a little fish who wants to become a girl.  The amazing thing about Miyazaki's films are that the animation is so incredibly creative and so amazingly beautiful; that it mergers reality into fantasy and the graphics are so life-like, he makes you believe a fish who turns into a little girl, can be magical.
If you're stuck to watch another kid movie, suggest this one.  About 5 minutes into Ponyo, 9-year old Harrison turned to me and said, "This is an awesome movie."
Watch the Ponyo trailer.   This film is amazing to watch in HD.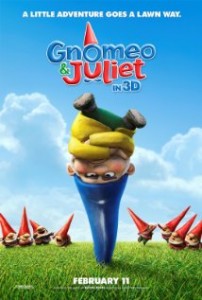 Rating: Waste of my time (and money)
See it: In movie theaters now
This guy on the poster is exactly the way I felt coming out of the theater.  Okay, it's 2011 and I paid close to $60 for matinee for me and the 3 kids.  It was another $20 for two medium drinks and 1 big bucket of popcorn.  And the movie, you ask?   Well, it was in 3D, so we had to wear the glasses, which annoy me, so most of the movie I removed them.  And guess what…if they're going to charge me $11.50 for a 3D movie, why don't they make it in 3D?   You could actually watch this movie without the glasses because most of the time there was a lot of talking between characters and the only thing in 3D was the blades of grass that appeared closer to us.
The storyline – BORING!   The only reason I stayed awake was the music; which, after awhile I realized was all Elton John music.  And even then, it seemed to be a bit much.   During the credits I realized that Elton John was a producer of the this film.   We're huge fans of Elton, but not this movie.