Feeling very apprehensive about this trip.  There is lots of turmoil in the world, with the recent bombings in France, airplane crashes and well, just a lot of questions gone unanswered for us chaperones, as an international trip might bring.
Heather's choir decided to sing in Italy this summer and what an experience it was!  As a chaperone, I was privy to all of the going's on ~ and sometimes being "in the know" just can take the fun out it ~ however, that wasn't going to dampen our experience.   There were 34 singers, 6 chaperones, the conductor and accompanist, making our group of 42.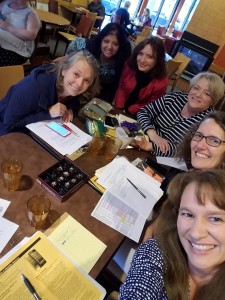 July 6, 2016 – 7:30pm PST: We are on board and Heather and I are separated by 2 rows and 3 seats.  It's a huge jumbo jet!
July 7, 2016 – 5:03am Italy time: Touch down in London.  I slept about 40 minutes, but during that time one of my singers threw up, twice.  Fortunately, there were several other chaperones near her to help clean up.  Unfortunately, she was sitting in the center seat of a row of 5.  Her seatmate, who was also sleeping, wasn't so lucky.
4:00pm: We are all split up at Heathrow airport, each chaperone group is with their singers, but without any specific directions to meet up, singers are going through several different levels of security (on different floors).  We left security, only to return to get on our second leg of the flight.  One chaperone had to wait, while her singer's bags got double checked; evidently she had packed a water bottle that didn't pass through security.  My group and a second group were together, along with the conductor, but he eventually found his way to the gate without us.  When we discover through texting what is going on, we all made it to the gate in the nick of time!
4:07am: I do a count of the number of people that we have flying with us.  Because not everyone was flying with the group, and some, including a chaperone, was meeting us in Italy.  We are all on the plane, including the conductor.  I am not feeling so well because of the lack of sleep. I realize there a quiet a few parents on the airplane as well.  Had two other singers puke on this leg.
Arrive in Bologna, meet our tour bus driver and we're off to our first dinner in Italy, it was at a truck stop, no lie.  Disappointing.  The main dish was indistinguishable; either veal or pork, might have been chicken?  Served with ~ get this ~ french fries.  I was eating the lettuce on the side of the plate for vegetables.  We drive to our 2-star hotel, about 1-hour outside of Venice.  It's 2:00am and I am posting photos to a Facebook closed group, to keep in touch with the parents in the US.  Pictures of everyone smiling and really enjoying the experience so far. I take a trip to the front desk to get hot water for a middle of the night tea.
July 8, 2016: We ate breakfast at the hotel about 8:30-9:30am, a very good, but very sweet, breakfast options, loaded up the bus about 9:45 and rode into Verona, a 1 1/2 hour bus ride.  We had a guided tour of the city at 11:00am, the highlight seeing the infamous residences of Romeo and Juliette, and many piazzas.    The day was humid, and just standing in the sun was exhausting!  We had our first "lunch on your own", Heather seen above with her group eating pizza.  I researched on TripAdvisor where to get lunch, off-the-beaten-track, and took my singers, another tour group and the conductor to a  sandwich shop where the locals buy their food.
After the 1 1/2 bus ride back to Vicenza, we basically had 20 minutes for a quick shower and turn around to get to an early dinner then rehearsal for the 9:00pm concert in Villa Caldogno.  The venue was completely beautiful that overlooked gorgeous Italian gardens. However, the heat was oppressive; think DC in July.  Constantly sweating bullets and shirts soaked through.  One of the reasons the concert started at 9pm, because it would get a little cooler; but with the lights on in the room, it was still hot.
A wonderful mix of American and Italian patrons filled the room; and the acoustics were very good.  I watched the entire rehearsal, and because they were short on time, they only practiced a few songs, so during the performance I was surprised that Heather performed a solo during the song City Called Heaven.   Watch her performance on my youTube channel, as the videographer wiped tears from her eyes!  (This was jut the warm-up to the later, performance in the Rome church!)  I had three sets of parents come up to me afterwards and say how amazing she was!!!  Very, very proud moment. 11 of the Cantabile songs sung at this venue can be seen here.
Click on pictures to see them in full size.
Saturday, July 9, 2016 – Tired, a restful bus ride to Piazzale Tronchetto outside of Venice is welcomed.  Singers donned the bus microphone and told clean jokes for during the ride.   Everyone is excited to board the vapperatto, a private shuttle boat for our group, to take us to the shores of Venice Island and St. Mark's Square.
We started our walking tour at 11:00am and it ended at 1:00pm.  The first 45 minutes were interesting, but after that, most everyone seemed less than interested.  The tour guide had wireless headsets, and as a techie, I found that very cool.  She spoke into a microphone that allowed everyone to hear her in their ears.    I decided that pictures of scenery and even people were more fascinating and of course, taking care of the choir singers, who were hot, thirsty and hungry by noon.  I handed out snacks and used the fans to keep everyone cool.
We did have some problems with the headsets, and the chaperones had to use their resources; yes, had to use a band-aid to tape the battery compartment shut so the headset would work!  Those batteries, which "fell out" later, came in handy for some of the fans.
Once again, lunch was really good!  We got to select the place.  It was just a little coffee bar; where most Italians come in, have an espresso or cool drink of sparkling water with , lemon, talk and then leave.   We hauled in 24 singers into this tiny place, took over every single seat, with one waitress who worked diligently with our singers and their dietary restrictions.   At this stop, most were interested in gelatos and Coca~colas; fortunately, our older singers ate a more balanced meal before diving into desserts!
After a very quick lunch, it was a race back to the meeting spot so we could all enter the Doge's Palace. Almost lost one of the singers to heat exhaustion, as we raced through the tiny streets of Venice.   Oh, Giao and I were navigating the group, and in our haste, we took a wrong turn; instead of turning around, we thought we could just double back around, but we continued to hit dead ends (streets that ended in water, not bridges that we could walk over.)  It all became very funny, but we were all tired of hitting several dead ends.   Eventually, we made the meeting spot on time (not early).
Doge's Palace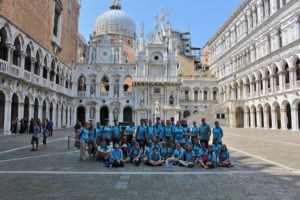 Once inside, we took a group picture.  Then, it was a self-guided tour for the next 4 hours. Many of the singers wanted to just sit and relax; however a chaperone's job is never done.  Because most of the younger singers wanted to go through the palace, I ended up helping out the chaperone with the middle school students.  I had previously seen the palace with Greg on our anniversary trip to Italy, about 8 years ago; so following the students and seeing their eyes and witnessing their excitement was such a joy for me!    This was all well and fine; but mid-way through the tour, most of the singers had seen enough and did not want to venture through the rest of the palace.   But trying to exit the palace, we were all blocked by "guards" who forced us to follow the signs.
Well, because we were all staggered and not really keeping track of who was with whom; the groups dripped and dabbled out of the large rooms and through the narrow corridors and passages of the palace, eventually down into the dungeons.   I happened to be leading a small group, as we briskly traveled through the dungeons and was hoping to get a rest with our fellow singers and chaperones before heading off to mass.   I turned a sharp corner, only to find another chaperone's daughter, by herself, who had gotten ahead of everyone!  Quiet frighten, I assured her she was okay with us; but she had already texted her mom to tell her that she was lost!  I immediately texted the chaperone and had her text her mom to let her know that we were all together.  Whew!
Only after we got out of the dungeons and ended the tour, we were in the large foyer, where we took the picture (above) and met up with the rest of the group; we realized that another chaperone was missing her daughter.  She went through the exit to retrieve her and after, what seemed like some time, she was also recovered.  Fortunately, only a certain number of people were allowed in Doge's Palace at the time, and as you can see from our picture, it was quiet empty.
The students who were resting for the few hours were ready to move; while this old chaperone was tired and exhausted needed just a few minutes off of her feet.  My ankles started to swell as dehydration set in.   I pounded the water, but all I wanted was to raise my feet up.  No rest for the wicked.  We were off to the other side of Venice for mass participation in Basilica Santa Maria Gloriosa dei Frari, San Polo 3072.
The church was in a very nice, not-so-touristy side of the island.  While the choir waited to get inside the church, a newly-wed couple stumbled into our piazza, and the choir began to sing…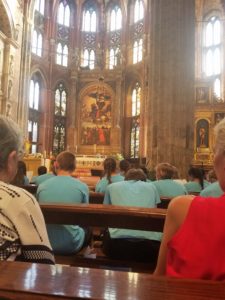 Select links to watch videos.
Cantabile also sang Gather by the River (Spiritual).  Video recording was trying to be discrete.
Then we were off to dinner.  The best part of the dinner was when the choir sang grace.  (play video below)
Even though we were inside, flies swarmed around our bread baskets, and left the only thing I was willing to eat, unappetizing.  This was what I was served for dinner:
I'm pretty sure it was chicken with some celery puree drizzled on top; but I did not eat it. In fact, when I actually picked at it I noticed that there was a plastic wrap around one of the rolls.  I left it untouched.  Nadia shared a little of her eggplant/vegetarian dinner with me – it was amazing!  I just felt like the "tour food" was very Americanized.  I made sure to load up on pasta, but even that was full of sugar and was very sweet, (ragù alla bolognese) but not meat sauce. After dinner, we
strolled the beautiful evening back to the pier and boarded the return vapperatto and put Venice in the review.  A long, silent bus ride back (only woken by the itinerary yelled through the microphone when we arrived).  We got everyone off the bus and quickly to bed.   I promptly made my way to the front desk, hoping to order a pizza, but all offerings were closed! The front deskman led me to the kitchen where I made up a simple sandwich and was most grateful! Gotta love the Italians!  By the end of this night, about 4 days in, I only had about 6 hours total in sleep.
Sunday, July 10, 2016 – Heather's 16th birthday
After a very lovely breakfast at the Key Hotel in Vicenza, the choir sang their special good-bye and thanked the hotel workers before we boarded the bus for a transfer by coach to Montecatini Terme.
There was a lot of "Looking for Elizabeth" going on:
And then a lot of this going on:
After a truck-stop lunch, Heather got serenaded:
Then we were off to Pisa!  What a fabulous day to spend your 16th birthday!
Then we were back in the coach, to be driven to our final destination, the Hotel Ariston. We arrived very late, but we had enough time to walk across town with 26 of the singers who wanted to cool off by going swimming in a beautiful public swimming pool.  As a good chaperone, I got into the pool and interacted with the singers…who did not need my help. Add water with kids and it's instant fun!  Thanks to Nadia and some quick phone calls from our liaison this "pool party" happened.  It was not originally on the agenda.   But a day off is a day off from singing, and they did not have a required concert that night, so it was the perfect day to take a swim.  Dinner was to be served at 7:00pm, but the another chaperone made a call and extended the relaxing event by 30 minutes.   They spent their last 5 minutes singing to Heather.   Watch the video below; I am off to the right side, signaling to everyone during the song:
The songs of happy birthday did not end there for Heather; she was treated to a turn-down lights during dinner and everyone again sang to her as the staff from the hotel brought out a lovely dessert with a candle in it!   Unfortunately, I had left dinner early, because I was not feeling well.  I made the mistake of sitting with the chaperones who wanted to "talk shop" and I needed a break from the day of planning and issues.   I literately felt sick; because I had bumped my head earlier during the unpacking process at the hotel.  I decided that I would put some ice on my head and skip dessert.   Poor decision, but I did not know about the surprise. Heather came to my room and checked on me (so cute!) and we shared a little of her dessert.   I was so happy for her!
Monday, July 11, 2017
The next morning, as I was checking in with my "cool" group of singers; one of them woke with a mosquito bite on her eye.  Because the rooms were so hot, they had opened the windows during the day, but failed to close them at night.  So, I set them straight on how to operate the thermostat and we made sure the windows were shut.  In the meantime, I took a walk through the lovely neighborhood to the nearest pharmacy.   It was actually very beautiful, city walk and enjoyable to break away from the group, only for the time that they were waking and gathering for breakfast.   When I was on the return trip, I noticed a pastry shop; so I stopped in and order some pastries for our birthday girl; plus devoured something sweet for myself.   YUM!
Hey, let's start the day off right!
Our last day staying in the Montecatini Terme hotel, took us on a long drive to Florence, where we had an outdoor (hot) 2 -hour tour of the Piazza della Signoria and Duomo and my questioning why we didnt take a tour of the Uffizi museum where it was cool inside.
After the tour, we were on our own from 5 hours, without returnibg to the hotel. Then we had to meet for dinner, and then a concert.
I have tons of photos from this day that I will post soon.
Our next 3 days were spent traveling to Rome and the absolute highlight were the choirs singing at the 5pm Mass in St. Peter's Basilica in Vatican City.
Rome wasn't built in a day, and neither has this blog post…
I plan to have this post completed by the end of Feb. 2017.  Check back to read how it all ends: Hear about the hotel accomodations; do we lose a chaperone? Or maybe a singer or both???   More pictures and explainations to those questions plus the flight home.