Wednesday, June 17th, 2015: Travel Day
In an effort to check out some colleges during our annual East coast trip, we decided to touchdown in Newark, NJ this time and settle in a sweet hotel in Jersey City.  Our flight came in 1/2 hour early and landed at 11:30pm; we took an Uber to the hotel and settled in by 1:00AM (East Coast Time/but only 10PM our body time).
Thursday, June 18th, 2015: Day 1
Up at 7AM and square bagels (Squagels) breakfast sandwiches at Cosi's until 8AM and then waited for the (very late) Uber until 8:40AM.  Fortunately, we made our 9AM reservations it to Liberty State Park to take the ferry to Ellis Island Museum and then to the Statue of Liberty.  We even had time to spare, as we were last to go through security (because of the lady in front of us and TSA held us all up).
We made friends along the way, taking pictures of the city, waiting in line and walking around the grounds at the Statue of Liberty.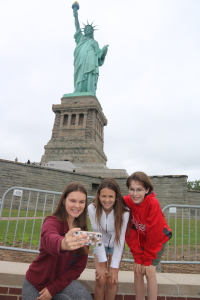 By 11:30AM, we had walked to Wall Street and financial district, stopping to take a picture at the most popular spot for tourists, the Charging Bull.  We were lucky to get this shot (a Heather selfie), as people put their heads up the butt of the bull.
We promised the kids lunch; but as we walked towards our lunch destination, Greg and I decided we wanted to see the 9/11 Memorial, at this point.  We did not go into the museum.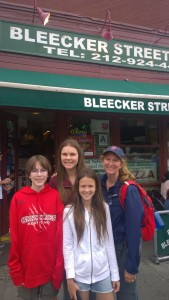 We walked to the subway and took it to Times Square  for a quick look; then back on the subway to lunch at Bleeckers Street Pizza.  The Food Network deemed it worthy and the pizza was completely amazing!  Nona Maria pizza had sauce that had a hint of lobster, if I had to say, so tasty!  With fresh mozzarella and basil.  The Grandma pizza is the well-known one as well; and the kids ate the cheese pizza and Harrison had the meat pizza too.  All slices were huge!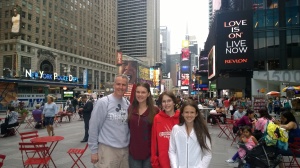 After lunch, Holly did some shopping. Then we went back to Time Square, the central location tourist-filled, with the creepy Elmo and Naked Cowboy and scantily dressed women.  Harrison exclaimed that he liked New York.  (Surprising me).  Holly continued to shop!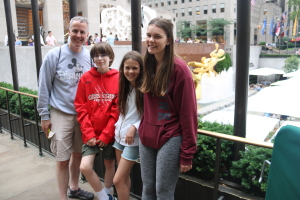 We walked to Rockefeller Center (to see if the ice skating rink was up — it was not!)  But noticed that the Today Show was setting up for their Friday concert on the plaza.
Heather's iPhone was running low on battery, so that gave us our next destination:  Grand Central Station which houses the 2nd largest Apple Store in the world!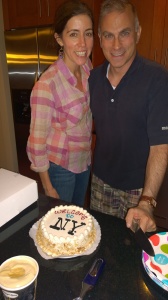 We walked back to the docks and took a commuter water taxi to Hoboken to have dinner with our gracious hosts and Lehigh friends, Lex and Michelle, at their beautiful city-view complex.  Burgers on the rooftop were delicious, but the weather was not cooperating.  The outdoor fire place on top of another higher building still didn't give the warmth that you would expect in the city in July!  We headed back inside to their beautiful home and had a special and amazing Italian cannoli cake dessert!  YUM!
Friday, June 19, 2015 – Day 2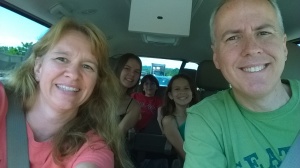 We rented a car in Hoboken, NJ and drove to Bethlehem, PA to tour Lehigh University.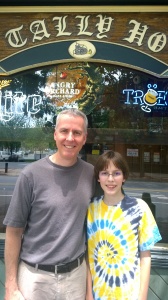 First stopped for lunch at the Tally Ho, where we had a scare of Harrison choking on some mozzarella.  Almost lost one kid that day, but he survived!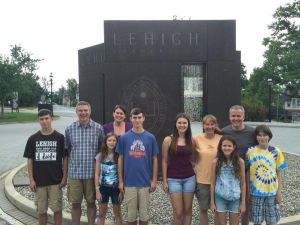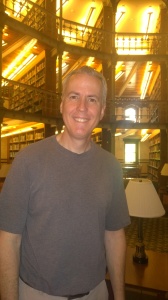 Afterwards, we met up with our long-time friends the Dewey's, Paul, Ronna and their lovely children.
We all toured the beautiful campus of Lehigh University.  These pictures indicate the names of Greg's father and grandfather from the graduating classes of 1929 and 1961.  The university used to engrave the names of the graduating class and post it in the chapel.
After the tour, the Dewey kids and our Harrison ran in the Saucony Mile at Chester Springs, PA airport.  It was such a cool race, with the runway being the flattest, longest and straightest type of road to run!
Then we went out to dinner at a local brew house.
Saturday, June 20th, 2015 – Day 3
After a night in the lovely Dewey home, and we said good-bye to the twins who were off to London that morning.  Our family drove to Philadelphia to see the Liberty Bell…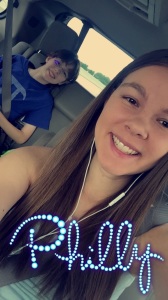 …Independence Hall, Betsy Ross House and Ben Franklin courtyard and house.   Greg took us to his old stomping grounds (lock the doors) and we ate lunch at the infamous Pat's cheese steaks.
After a long day of doing tourist stuff, we were welcomed back to the Paul and Ronna's home for an amazing dinner spread including BBQ kielbasa and a fireworks show!
Sunday, June 21st, 2015 – Day 4
Leisurely, we woke Sunday and were in no hurry to get out of town: our hosts graciously served up an amazing Sunday pancake and bagel breakfast with fun conversations which made our leaving very difficult.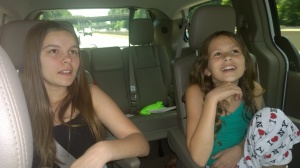 We drove from 11:10am onto to arrive in Mass at 7:25pm.
Most of the trip was bearable.  We loved the fact that Heather was constantly telling us how much she hated being in the car.  It felt like a true "Family Vacation".  The only reprieve was when I was following a bus – which I considered extremely annoying.  We had gone back and forth on the highway about the same speed, and I just wanted to get away from it.   What annoyed me the most was the bus had a huge sign on the back that said "Drive with us – Free  WiFi!"
After many miles, maybe hours of following this bus, I eventually made a move to get around it, and it might have turned off at an exit, but from the back of the car I heard an ensemble of, "Nooooo!"  As all of the kids were using the free WiFi from the bus to stream their videos and shows.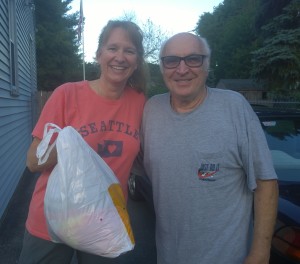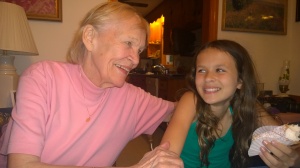 We arrived at the grandparents home, excited to see everyone and with laundry in hand, because it wouldn't be a trip home if Judy didn't have laundry to do!
Monday, June 22nd, 2015 – Day 5
Finally a day of rest.  We drove to Hopkinton, MA to meet up with Patty and relax at her and my brother's house.   Drinks by the pool and hanging out with them is one of our favorite things to do on our vacation.
That afternoon we went to see Inside Out.
Tuesday, June 23rd- Tuesday – Day 6
Our days were turning real lazy in comparison to the beginning of the trip. Board games and Trombetta's for ice cream with Grandpa, Aunt Carie and the cousins was the highlight of Day 6.
Later that night, I took Heather to the Natick Mall to meet up with Katie, the daughter of my Lotus friends, Robin & Milton.  Robin and I walked the mall, while the girls shopped and snacked.
Wednesday, June 24th – Day 7
After years of looking at an old VCR 12″ TV hanging in my parents kitchen, we decided to upgrade them and bought 24″ little flat screen from Best Buy.  I wanted to go with the VISIO with the speakers in the front of the set, but we opted for a more premium tv.  There's more to this story on Day 8.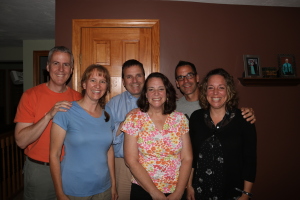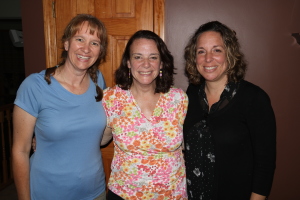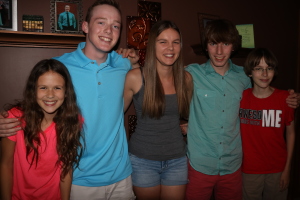 That night we visited my oldest classmates Joanne and Annalisa.
We drove to Joanne and Tim's house in Burlington, MA and got a rare chance to see both of their gorgeous boys.
Annalisa and Michael showed up later and we had dinner and some great conversation, and lots of laughs!  Anna & Jo convinced me to come to the MHS 30th reunion in the fall.  (which I did!)
Thursday, June 25th, 2015 – Day 8
Dubbed the debunked beach effort: we packed up all of the beach gear, that I have stored in my parents basement, so it was unpacked and then repacked into the car, to go to Memorial Beach.   But when we arrived the beach was closed because of alge.
As a backup plan, we went to Wegman's to get candy for the kids.   As a tradition, I usually bring the kids to Boehms Candies & Chocolates the last day of school; however, this year, the last day of school ended up moving to the day we took the flight out to the East coast; and there was no time to visit our beloved chocolate store.    There were absolutely no snow days, but there was a one-day when the teachers voluntarily walked out.  So, the district added 1 day to the end of the school year, after we purchased our tickets.    Ugh.    Holly's promotion night was moved to the night before our trip and of course, I was organizing the entire promotion night.  Made for a very hectic week, but it all went off without a hitch!
After filling up with candy, that night we had lobsters with Brenda, Nana and Grandpa.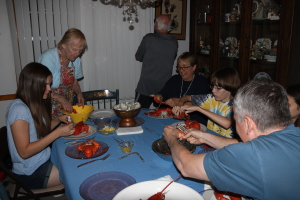 Friday, June 26th, 2015 – Day 9
Friday morning, Grandpa took the boys, just the boys, Greg and Harrison out to breakfast at an small airport.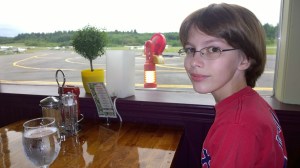 Later that day, we met our friends from Redmond, The Lange's, who were also visiting their grandparents, out at Kimball's in Westford, MA.   What can we say, ice cream, bumper boats, mini golf add kids and it was a lot of fun!
If that wasn't enough, we all met up at the movie theater to see either Jurassic World or Inside Out (again).
Saturday, June 27th, 2015 – Day 10
Saturday we did some shopping with Heather and then ended up at Aunt Brenda's house for the annual "Keyser cleanup", where the entire family works on the yard.  This is our second year trying to get grass to grow, or just clearing leaves.  I even ordered a special hoe for Brenda through Amazon for the weeds.
Sunday, June 28th, 2015 – Day 11
We all descended on Uncle Benny and Aunt Patty's for a Miele party; it rained so there was no swimming, but food and drinks were in abundance, as always.  What a blast!  Cousins Matt and Katherine were there too.  Indoor games of billiards, darts and ping pong were all fun to play and hang out.
Sunday, June 29th, 2015 – Day 12
Greg and I drove Heather into Boston for Berklee College of Music's Stage Workshop.  It was an easy commute starting at 7:45am and getting in before 9am.  Heather checked in and we walked around campus to find her classrooms, and then a Starbucks for Heather and a Dunkin Donuts for mom.  When it was time for Heather to start orientation, we hung around and checked it out.   Introductions of her teachers, one being James Taylor's brother, Livingston Taylor, were all amazing folks who were excited to be there.
Greg and I returned back to the "cottage" and worked on a little house project of upgrading the TV in the kitchen.  We went to Best Buy for a small 32″ flat screen.  Once installed the folks just couldn't hear it very well.  So we took it down and brought it back to Best Buy and returned it.  We got that VISIO with the speakers in the front.  Besides, they weren't going to be taking advantage of most of the technology, so this was the best bet!
Tuesday, June 30th, 2015 – Day 13
Because Heather wasn't 15 yet, (only days away), she wasn't allowed to stay on campus during the workshop, so we had to drive in and out of Boston to get her every day.    The second day of her class, we took the whole family, dropped off Heather right in the beautiful back bay of Boston on Boylston Street on campus, and headed over to the Museum of Science with Harrison and Holly.  We enjoyed The Science Behind Pixar, a look into the Pixar Process.
We loved the the exhibit, then took in an IMAX show and left.  We visited The Boston Tea Party Ship & Museum next.
Wednesday, July 1st, 2015 – Day 14
Drove into Boston on the last day of Heather's class, to see her perform.  It was interesting take on working on stage with a group that she just met days before.   The performance was streamed from the Café 939.
Heather was dismissed from her class, and we headed to the Commercial Street Garage and parked to meet up with the O'Keefe family, my Lotus friends.  John was working so he met up with us outside of the New England Aquarium.  We walked over to the North End to get dinner and ended up at Pizza Regina's with a snarky waitress who spilled water on me and then told me, "It's okay."   Kathy organized the multitude of straws and we all had some good cheer!  John, always in rare form.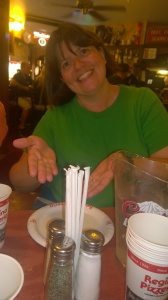 Thursday, July 2nd, 2015
A day of packing.  Lots of good-byes.  More ice cream at that fabulous new place in Hudson.
Friday, July 3rd, 2015
Fly back to Seattle.