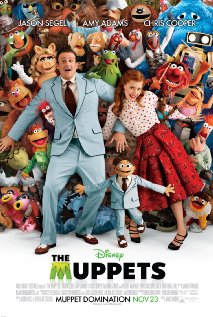 Rating: Worth my time on a long holiday weekend; otherwise, rent it
See it: now in theaters, November 2011
Another Thanksgiving released movie; we previously saw Hugo, but now they're back and it was time to see The Muppets. Kermit, Miss Piggy, Dr. Teeth and the Electric Mayhem and all the Muppets come together to host a tele-a-thon to save their beloved Muppets Theater.
It's great seeing the gang back together, especially on the big screen, but the movie itself was a little thin.  Too much of the Walter-Gary-Amy storyline and dance numbers made the film disjointed.  Gary and Walter repeating over and over their same problems got a little boring.  It lacked the creativity of suspense, and the awfully, silly puns the previous Muppet movies had, and perhaps as with sequels, the writers assume you know all of the characters.
I would have liked to have seen more re-introductions of Gonzo, Scooter, the band members (Janis, Zoot); Waldorf and Statler, Sweetums, Harry (the pyro) and what each character had been up to, while away from the theater. Plus, something like a Blues Brothers, "We're getting the band back together" quest; maybe a Pigs in Space or Veterinarian Hospital during the tele-a-thon.
However, seeing some old Muppet Show footage and the characters bouncing around the screen is all nostalgic and fun to watch.  Plus, I wouldn't miss discussing and re-enacting with our 7 1/2 year old, some of the scenes they did do well (Animal and what he's been up to) plus hearing the Muppet music.
The cameos were surprising to see, but at times it felt like some of the Muppets were doing cameos too.   But I wouldn't miss taking some time out of a long, holiday weekend and spend it with our daughter.   If you don't have time over the busy holiday, choose your movie wisely — even, unsolicited,  Holly said that she enjoyed Hugo over the Muppets, and she originally wanted to see the Muppets over Hugo.
Additional notes:
As Jim Henson has always been a hero of mine; I have been fascinated with all of his works in his short life.  I grew up with Sesame Street and I can remember watching an interview with him on the Today Show;  they aired a segment of the Muppet Show with the Swedish chef tossing the flour and chasing the "chickie".  I knew his Muppets really made it to space (Yoda featured in Star Wars).  I was crushed the day I heard Henson had died.
We own several seasons of Muppet Show, and our favorites are the musical ones with Elton John, Gene Kelly and Julie Andrews.   Try your local library to see if they are in stock, or buy/rent/stream the original Muppet Movie.