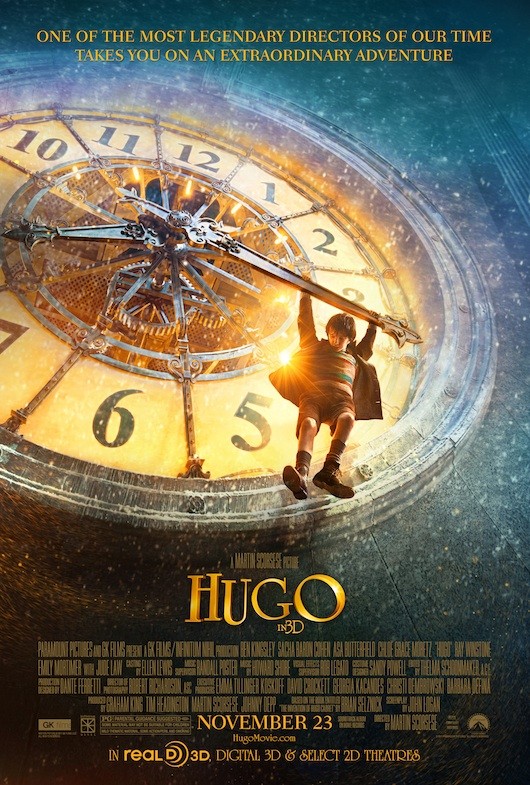 Rating: Worth my time, and would see it again
See it: now in theaters, November 2011
Because we have a long weekend at home with the kids for Thanksgiving; and school gets out at noon the Wednesday before, Greg and I took the kids from school, had a lunch packed for them in the car, ready to eat when we picked them up from the rainiest day outside.   We wisked them over to the movie theater in hopes to beat any crowds.   I was hoping that everyone was at Costco, Safeway and other local stores picking up their last minute items for Thanksgiving.   It paid off, the theater was full, but not crowded.
Harrison and I read the book several years ago, and now I am re-reading it with Holly.  It's a fantastic book and movie, actually, about movies.   Yes, the storyline of Hugo Cabret and how he is looking for answers in a machine, living in a train station, avoiding the Inspector who throws orphans to the orphanages is all very well done, in the book and movie.   The movie takes liberties in creating some additional storylines, and it works perfectly.
I also liked the way the film omitted some of the frustrations and fights between Hugo and his counterpart, Isabelle.  Their relationship was very sweet.   The picture was beautiful to watch and I also enjoyed how they tied in all of the drawings from the book: the city, the clock, the grate, the old man sitting at his workshop.
But the best part, I think, is the part that wasn't really told in the movie.  You learn in the acknowledgements of the book, that Georges Méliès was actually a director of movies, known as the very first cinemagician.   This author researched and referenced many old movies, some of my favorites, including Buster Keaton.   It was only fitting that an amazing director like Martin Scorsese directed a film about a film director.
Very enjoyable.