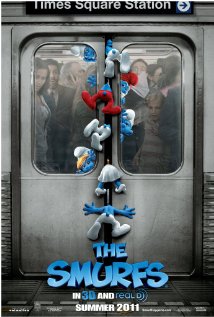 Rating: Worth my time (and kids loved it)
See it: now in theaters, Summer 2011
The advertisments were out for the Smurf movie to hit theaters July 29th, and that's all I heard about!   The kids were begging me to see the Smurfs, and as much as I did not want to spend an hour and half reliving the 80's, (Did you know the Smurf's cartoon had over 250 episodes and ran from 1981 to 1989!) those little blue guys were in and out of my life by now; I had my fill.   They were with me all throughout high school and college, where, I outgrew them.  Now, they were back.
However, this movie wasn't as annoying as I remember those pesky, get-into trouble smurfs used to be.  Originally, I thought it was going to be a cartoon (hadn't seen the ad's myself), so I investigated.  Saw a few trailers, all short clips about how they were taking over the world, but I still wasn't convinced.
Then, when the outlook for the day called for more unseasonable weather, I took the kids.  I was pleasantly surprised to be greeted by Neil Patrick Harris, who I believe is one of the funniest t.v. personalities (oh, yes, long before the awards show, How I Met Your Mother, I used to watch Doogie Howser, M.D., 1989-1992).
Plus, coming off my week long catch-up to the 21st century, I just watch the whole 2nd season of Glee on Hulu and just loved the fact that Jamaya Mays played Harris' wife.  In the movie, and similar to Glee, there are parallels of Harris and Mays relating to the cute kid-like Smurfs.
Not to give away any simple plot: the Smurfs get into trouble with their rival Gargamel, they meet up with Harris' character, they have obsticales to overcome, big battle at the end and everything is tied up with a big blue ribbon.
But, along the way they make reference to their originator, and explain why there's only one girl smurf, among other tid bits that are darling to know about these lovable kid characters.
The voices are casted perfect: Katy Perry as Smurfette, George Lopez as Grouchy, Fred Armisen (Saturday Night Live) as Brainy, Jonathan Winters (life-long comedian from one of my ultimate favorite movies: It's a Mad, Mad, Mad, Mad World) as Papa Smurf and Hank Azaria (Tuesdays with Morrie) as Gargamel.   I like to play "who's behind the voice" game, when I go to movies like this one.
Overall, it was worth my time to see it in theaters.
When leaving the theater, Holly exclaimed, "It was Smurf-tastic!"
Click me to go to the Offical Website of the Smurfs for games and info