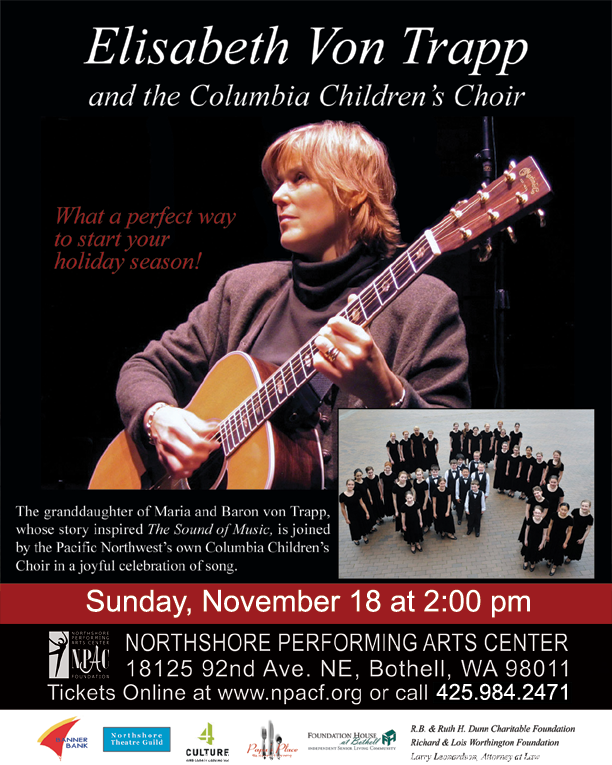 On November 18th, 2012 – Heather's choir, Columbia Children's Choir, performed on stage with the granddaughter of Maria and Baron von Trapp.   They sang with her on Edelweiss.
But the real part of the story is that the performance was at 2:00-4:00pm, and when we arrived Mr. Stevens, the conductor, said that they were only going to sing in the first half of the show.  So, Heather asked to be excused at 3:00pm because her soccer team was playing in the District Finals and she will miss the game if she stayed.   She had planned on missing the game because of the concert, but this break gave her the opportunity to possibly get to the game.   Smartly, Heather was prepared and had packed all of her soccer equipment and it was in the car ready to go.   However, Greg and I figured that a game starting at 3:00pm in a town about 40 minutes away from the concert, would leave her with about 10 minutes of the game to play.
We whisked her out of the concert hall and drove to the soccer field.  It was pouring rain.  Raining like we hadn't seen it rain.  Rain like 40-days and 40-nights type of rain.  Take a pitcher of water and pour it on your kitchen table — that type of rain where you're going to get wet; where Seattleiets actually pull out their bumpershoots, REI raingear and boots.    And we were dressed for a concert, not a soccer game.
Heather jumped out of the car, left her bag, sweats and everything and ran onto the soccer field, as if she was ready to play.  Because of the rain and darkness, all we could see was there was a team in red (her team color) on the soccer field.  We parked and pulled out the Mambe blankets and hotties out of the car, and as we walked over, I could tell that it wasn't a girls team on the field.  Evidently, a boy's team was playing and all of the final games were being played on the same field all day long.   The games were running into overtime and Heather hadn't missed the game at all!  It hadn't even started.  So, we grabbed her bag from the car and about 30 minutes later, they started the game.
The game was played in the pouring rain to a scoreless 0-0 tie.  Double overtime was also scoreless.  Then penetly shots.  Heather scored her kick, which was 4th in.  The score was tied 4-4.  The other team scored their 5th goal, but The Wizards couldn't capitalize on the goal and lost in double overtime, PT, 4-5.