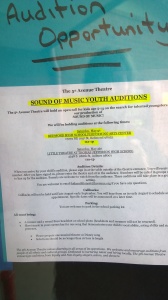 May 9, 2015 –
Heather auditioned for the 5th Avenue Sound of Music
Just a few days before, I saw an audition posting at Blackwell.
I thought, Heather is still 14 and this would be the perfect opportunity for her.
She picked her song, we sorted over three different ones, because she wasn't sure if a Pixar song was considered "Disney".   She selected When She Loved Me by Sarah McLaughlin from Toy Story 2.  Other options were Belle and Little Mermaid.
We arrived 30 minutes early to the 11am open audition, and she was already 40th in line!  They were placed in groups of 20, so she was set to audition last, but in the second group.   She liked all of it.  She enjoyed watching everyone go before her and "closing" the audition.
The 20 students were marched on stage.  The stage had a piano and pianist, a table with the person conducting the audition facing the students, and with cameras on the students (upstage).  With heir backs to the audience, the students faced the table in a line across the whole stage.  The parents could sit and watch in the audience.    One by one, they walked over to the piano and explained their song to the accompanist.  Then they stood on their mark in front of the line of students, facing the table.
Some were very fun songs, one or two stumbled, but when it got to Heather, finally, everyone in the room was relived that their part was over.
After several painful weeks, unfortunately, Heather received a rejection letter due to "height requirements".
As we take it all in stride, the experience was a very good one, and we explained to Heather, and we believe she knows, that you can't win all of the time, you cannot expect to be accepted everywhere, and that receiving this rejection, just allowed her to continue with her regular high school and all of it's activities.
The commitment for the Sound of Music was 10am-6pm daily from October until January; meaning that she would have had to figure out some alternative high school plan for the year.   We are glad that she auditioned and tried, and learned this "life" lesson.