For those of you who might be wondering; as my Massachusetts friends and especially my brothers who have already gently reminded me, to remember where my "roots" are grounded…
Here's where I am: 27 years in Massachusetts,  20 years in Seattle and
The New England Patriots v. The Seattle Seahawks in Super Bowl XLIX
Born and raised in Massachusetts, naturally, my blood has sports fan in it.  (I have first hand-witnessed you folks from New York, Chicago and even Pittsburgh with that same type of love for your hometown team.)  It's like the way Canadians love their hockey.  When you grow up in and near a major city with four amazing professional sports teams, there's always something to talk about or someone to root for.   When the Sox are down, the Celtics are great, when the Pats lose the Bruins win.  Heck, when I was Heather's age, 14, I went to Boston College stadium to watch our own professional soccer team, The New England Tea Man.  The team disbanded because there wasn't enough interest in professional soccer, at that time.  But years later, Major League Soccer came through and brought the New England Revolution – who we watch every time they are in Seattle to play the Sounders.
Growing up sports fanatic; gathering with family members, grandparents especially, there always seemed to be a game on in the background, radio or tv: Easter, Christmas, birthdays, every day gatherings, down at the VA or church assembly area in Cambridge.  I remember my Dad taking my brother to a Red Sox game, and I was too young to go, so we had to hang out and watch it on tv.  Too young…I probably was 9.  Harrison's very first Mariners' game was when he was about 18 months.  That wasn't planned exactly; when the babysitter didn't show up, and we had 3 season ticket seats in the club level of the new SafeCo Field, so we decided to pack up a 3-year old Heather and sling Harrison on our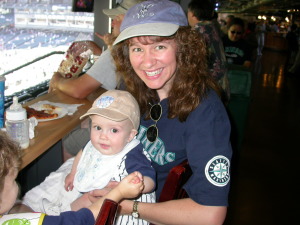 back.  Instead of sitting in the seats, we sat at in the club window and chairs area; which has become one of our favorite things to do as a family when we go to baseball games, at these new and updated stadiums (Fenway, Nationals Park, PNC Park).
Around the time I was in middle school, in 1978, the Celtics rivalry were the 76er's and their quest for the Eastern Conference title.  I was honored and excited to attend my one and only post-season game with a friend who's dad had tickets.  The Celtics won that game, but lost the title to the 76's, who went on to lose to the Lakers in the NBA finals that year.
Sometime in high school, my brothers, sister and I bought tickets to take my Dad to his first Bruins game at the (old) Garden.  It was a blast!  After that, I enjoyed many games at the Garden and fell in love watching Ray Bourque (1979-2001) play hockey; who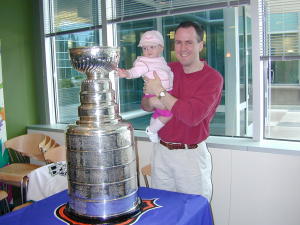 eventually became the highest scoring defensemen in the league and the Bruins captain, but without a Stanley Cup win.  He asked to be traded, in the very last of his 21 seasons and he raised the Stanley Cup with the Colorado Avalanche.  I watched all of the final games, from our home in Sammamish, and was truly happy to see him win this Stanley Cup.
Many of my most memorable Red Sox games I took in when I worked at Lotus in early '90's.  Roger Clemens.  Bleacher seats.  Boston Beerworks after work.  There was a time, and depending on the team in town, I could walk up to the ticket window on Yawkey Way during some weekends and purchase a ticket for $3!  Of course, before that, I lived through and was burned by the Red Sox '86 World Series v. The Mets, but I still went back for more.  But in '86, the Celtics won the NBA Championship;  so, you see, one team is up another is not.
The only time I went to Foxboro Stadium (now Gillette Stadium) was in 1994 when the World Cup came to the United States.  Organized by my brother, we went as a family, even my mom and dad were there, and we watched Nigeria v. Italy.  Italy went onto to lose to Brazil in PK in the World Cup finals.  It was the last time we were all together before I moved to Seattle.
Since I moved to Seattle, The Celtics won the NBA finals (2008) and the Bruins won the Stanley Cup  (2011). The Red Sox won the World Series, twice! And the Patriots have won the Super Bowl three times!
You see, coming from Boston, you have that sense of pride, that almost reaches back to colonial days; fighting for what's right, what's ours.    The New England Patriots – it says it in the name – they're not just from one city, or one state, they include the entire region.
Then there's Tom Brady.  My Boston Boy.  Likable.  Gorgeous.  Reminds me of a younger version of my older brother.  Smart.  Successful.  I can't hate him.  You see, when I look at Kappernack, I think, "loser".  When I look at Peyton, I think, "laughable".   When I hear Aaron Rogers speak, I think, "No fire".  He doesn't have what it takes.
But when I look at Tom: Proven. Adorable. Worthy adversary.  I can't hate him.
But I want Russell Wilson and the Seahawks to win the Super Bowl XLIX.  Oh yes!  Blue runs through my veins!  The excitement and passion that this young team has is unlike anything I have seen before.  Pete Carroll is an amazing, inspirational coach which filtrates through the organization, actually starting with the GM and goes through each one of the players, right down to the water boy.  I have seen this before and heard others talk about teams that are special and they go and win their championship.  All of the pieces have to be in place for a team to win.
What scares me is this: what I have seen the Patriots do this season, in the few games I have been able to watch – they are a 4th quarter comeback team.  But so are the Seahawks.  In the NFC game, with 4 minutes on the clock, announcer Joe Buck said, "They [Seahawks] have plenty of time."   The story, unbelievable.  You couldn't even write a script that believable.  It's a Disney ending, everything wrapped up in a neat little package.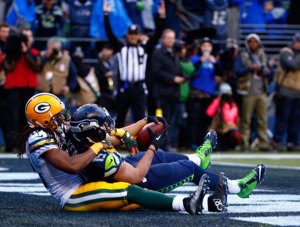 The fake field goal.  Lynch touchdown.  The onside kick which goes in the Seahawks favor.  Lynch 24-yard touchdown.  Two-point conversion.  Then Packers tie it up with field goal.   Then the Seahawks win the OT coin toss.   After throwing 4 interceptions to receiver Jermaine Kearse, by the way – a local boy from Seattle – Wilson has all of the faith to toss it to him for a fifth try in OT.  Kearse, held that ball and came down with all of the energy and fire and desire to go to back to the Super Bowl, and did it with a Packer packed on his back like a knapsack.
The Patriots AFC Championship, struggled a little in the beginning, but pulled it out in the end and won big, like they do.  This Super Bowl is going to be amazing!  But, it might be time for Tom to pass the keys of the dynasty over to Russell.
The line has been drawn in sand.
Go 'Hawks!
Judith Miele Keyser©