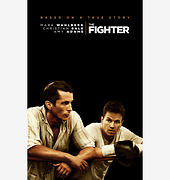 Rating: Worth my time
See it: in theaters now, or rent it when available
By the name of the movie you think it's going to be about a boxer; but during the opening scene you get a taste of a brotherly relationship and this is where the movie begins.  Half way through the film, I thought, this isn't a movie about a fighter, it's a movie about people and their own struggles.  Fighting with family.  Fighting with new relationships.  Fighting to get out of a hole.   It's a movie within a movie.  And it's totally worth seeing!
There's everything to love about this movie, but here's what this Mass-born writer loves the most, in no particular order:
1.  The Music – How you like me know by Heavy, Areosmith's I'm Back in the Saddle Again, and the Bee Gees, I started a Joke, which was sung by Dicky Eklund and his mother played by Christian Bale and Alice Ward (both who received a SAG Award).   This is a soundtrack to buy.
2.  The authenticity of Lowell, MA, the people's dress, hair, etc.  – of course, parts of it still looks the same in 2011 as it did in 1985.
3.  The language.  What can I say, they hit it spot on – it was wicked awesome.
4.  The relationships.  Again, in the first half of the movie, there was 1 fight, which allows you to fall in love with these characters.   All leading up to the big finale.